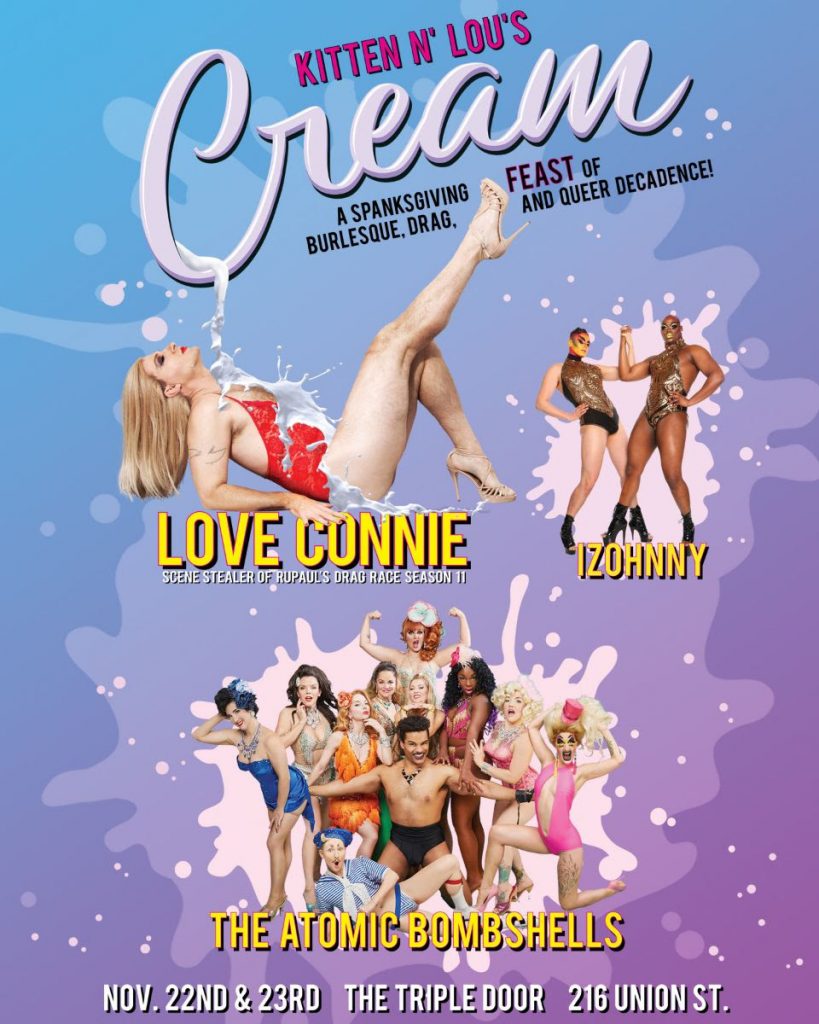 Well, it used to be that Thanksgiving Weekend offered up the start of Seattle's annual "Winter Holidays Big Gay Stage Shows" since Dina Martina's Xmas Show and Ham for the Holidays used to debut on Black Friday, the day after Thanksgiving, along with a few other brave shows willing to compete with those powerhouses.
That's all changed in the last couple years and the new norm is for most of the big holiday shows to kick off the first weekend in December…which is fine, except now you have less time to see every one of the 32,675 big gay holiday shows out there AND there are fewer special entertainment options for Thanksgiving Weekend other than the horrors of spending time with family, sportsball and the terrors of going to the mall to buy $14 widescreen TVs.
BUT, the starry and married showbiz duo of KITTEN N' LOU cleverly saw an opportunity and they plugged in their draggy/burlyque show CREAM into that spot…the superstars of burlesque had performed the show in their other hometown of New Orleans but now they also stage it at Seattle's Triple Door for a deliciously creamy post T-Day treat…this year, along with The Atomic Bombshells, they've also cast that calorie laden drag diva LOVE CONNIE as a special guest for Cream 2019!
It's only for 4 shows on two nights so don't dawdle snagging those tix HERE or you'll end up spending the weekend with Aunt Bernice and her awful kids at the mall!!!
AND, don't forget that Kitten n' Lou also have their OWN Xmas show, their sequel/re-boot of the old "Homo for the Holidays" which they re-birthed into JINGLE ALL THE GAY which starts (not surprisingly) on December 6th for its month run of shows at West Hall at Oddfellows on Capitol Hill…snag tix HERE for that show!
Kitten N' Lou Present: CREAM!

A Spanksgiving feast of decadently sickening burlesque, drag, and cabaret

Starring RuPaul's Drag Race scene stealer: 

LOVE CONNIE 

November 22nd-23rd
7pm and 10pm shows each night

The Triple Door, 216 Union St, Seattle

Tickets $30-$45:

www.tripledoor.net

Featuring: 

LOVE CONNIE (RPDR guest star Season 11, cult icon of stage and screen)

The Atomic Bombshells 

IZOHNNY

and special surprise guests!
Returning this November: Whet your Thanksgiving appetite with an eye-popping cornucopia of internationally acclaimed drag and burlesque superstars! After three years of "brilliantly deranged" (TimeOut NYC) sold out magic, CREAM has quickly become Seattle's favorite new Thanksgiving tradition, and this year's production brings you two nights of decadent magic! Starring RuPaul's Drag Race scene stealer and "Best of Los Angeles" LOVE CONNIE, this outrageously glamorous confection of a show has packed houses at Southern Decadence festival in New Orleans and Provincetown, and returns to Seattle this Fall! Featuring a smorgasbord of top shelf superstars like IZOHNNY (pdx), CHERDONNA, Kitten N' Lou, and The Atomic Bombshells, CREAM promises to leave you satiated and wallowing happily in a glittery sugar high.
Praise for Kitten N' Lou productions: 

"The industry's funniest performers" (The West Australian 2015) ★★★★

"A genius invention." (The Huffington Post 2015)

"A glorious bundle of glitz and silliness. (Australian Stage 2016)

"BRILLIANTLY DERANGED" (Time Out New York 2015)

"The wacky love child of vaudeville and club drag"  (Australian Stage 2016)

"Kitten N' Lou revolutionize camp."  (CityArts Magazine 2014)

"Sheer slick silliness… tight, excellent, eye-candy"  (Burlesque Beat 2015)
(Visited 7 times, 1 visits today)