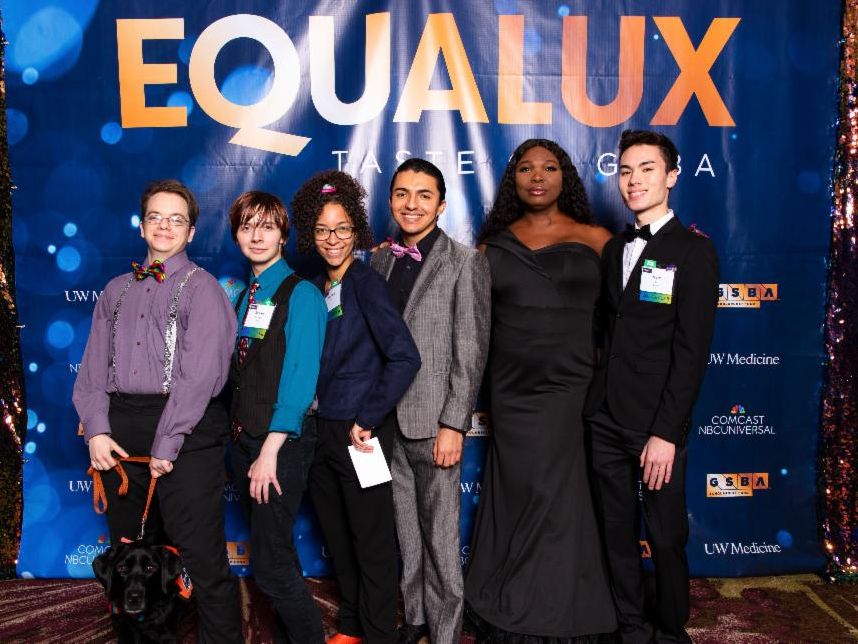 Wow! That's an impressive amount of money raised by a local LGBTQ non-profit group but Seattle's GREATER SEATTLE BUSINESS ASSOCIATION aka the GSBA, did just that on Saturday, November 23rd with their huge annual EQUALUX-TASTE OF GSBA fundraiser held at the Westin Seattle hotel.
The money raised is to benefit the GSBA Scholarship Fund, now in its 30th year which gives much needed scholarships to 60 LGBTQ students for the 2020-2021 academic year.
"Thrilling," is an understatement of what it feels like to walk into a ballroom of nearly 1,000 sparkling people, having a great time enjoying each other's company, while also coming together to help LGBTQ and allied students access education. Clearly, we throw a great party, but most of all, we have always known how to come together to support each other. Saturday night, EQUALUX – TASTE of GSBA was one of those magical evenings when we were at our philanthropic finest. We smashed several records on Saturday, raising over $1.6 million for the GSBA Scholarship Fund though combined ticket sales, sponsorships, auction revenue, and the Fund-A-Scholar. Many of these gifts are multi-year pledges or endowed funds that will allow us to sustain the growth of our program and ensure our Four Year Guarantee, while simultaneously adding an another ten scholars to our 2020-2021 cohort, and an additional 15 scholars by the end of 2022.

In fact, this year's EQUALUX was so successful that even though she couldn't attend, Mayor of Seattle Jenny Durkan proclaimed November 23, 2019 as "GSBA EQUALUX Day" in the city of Seattle, as announced to a roaring crowd by GSBA Board Chair Stephanie Dallas at the top of the evening.
And, it's not too late to join in on the EQUALUX magic. Please consider investing in the GSBA Scholarship Fund or volunteering your time as a scholarship interviewer in early 2020.
(Visited 1 times, 1 visits today)