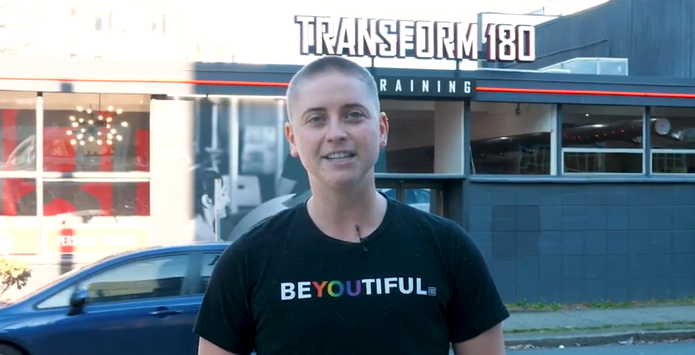 Meet Kaiden Blü…recently featured on a segment on Ellen's tube channel, where they discussed their transition, Kaiden is now in Seattle and offering up a terrific workshop on physical fitness and "how to work out" for folx who aren't comfortable in the gym.
The skinny:
My name is Kaiden Blü and I wanted to share my LGBTQ+ fitness workshop with you! 

Who is Kaiden Blü? Well, I am a passionate advocate for the LGBTQ+ community, my day job is with GLSEN WA State as an AmeriCorps Service Member! I have a Master of Science in Health Promotion and a Bachelor of Science in Exercise Physiology from the University of Delaware!  Most recently I did a segment with on Ellen with Ashley Graham's series Fearless.

Being relatively new to Seattle I am looking to build my community through this 6-week workshop, Lift Like a G*rl, in which you will feel empowered to come to the gym and feel comfortable working out!  

If you are interested or know someone that can benefit from this workshop, please pass this info along! 
What Ellen.com had to say about Kaiden!
Kaiden is a 26-year-old who identifies as transmasculine, gender non-binary, and uses the pronouns they/them. Kaiden has come so far, but is struggling with adapting to life after surgery, and finding a support system with shared experiences. In an informative conversation, Ashley Graham and Kaiden talk about gender, existing in a world of adversity, and the significance of a community. To prove to Kaiden that they are not alone, Ashley surprises them with an emotional video message from a group of incredible individuals who can relate to what Kaiden is going through. To further offer support and a new community, the group surprises Kaiden in person! Watch new episodes of "Fearless" on ellentube every week. If you or someone you know in the LGBTQ+ community is looking for support, visit thetrevorproject.org.

Check out Kaiden's video HERE!
(Visited 3 times, 1 visits today)