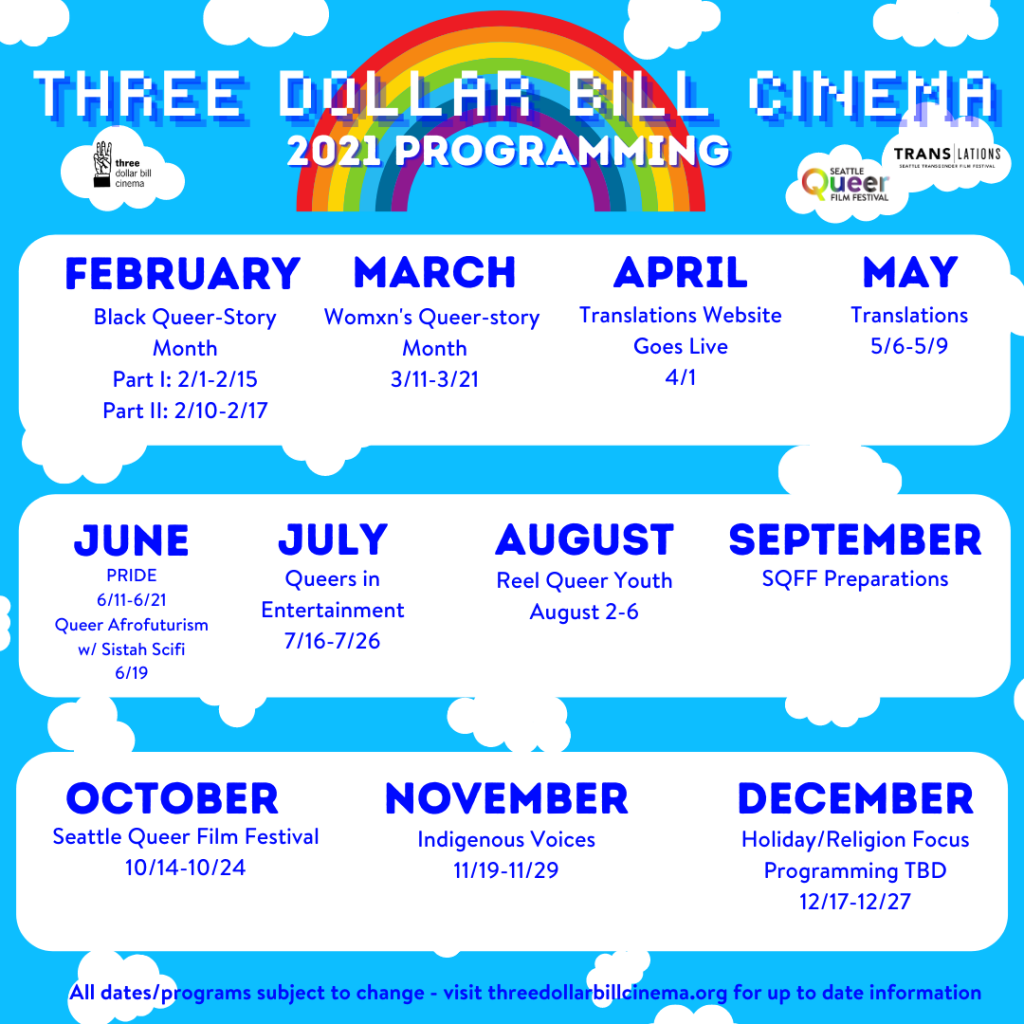 Three Dollar Bill Cinema has released a handy dandy graphic of their Calendar of Events for 2021 to make it easier to plan ahead for all your LGBTQ film centered fun for the rest of the year!
They just wrapped up their programming for "Black Queer Story Month" and now they're ready to for a month of films by and for queer women with "Womxn's Queer Story Month" which runs March 11th through March 21st and features a variety of different films/programs and all at a sliding scale.
Obviously, due to the ongoing Covid-19 pandemic, all film events are being screened online. More info:
Welcome to our newest monthly program!

Three Dollar Bill Cinema's new monthly programming was created to further our work of uplifting and showcasing the stories of queer people, and the intersections of queer communities.

March is *Womxn's* Queer-story Month!

We are featuring uplifting and comedic short films highlighting the experiences of queer and trans womxn, femmes, and non-binary people. ️

Sliding scale tix: $10-$50

15% of the proceeds from this month of programming will be donated to Trans Women of Color Solidarity Network!

This network's aim is to improve the lives of Trans WOC in Washington state through assisting individuals experiencing financial hardship and houselessness, political advocacy, and community building.
Featuring:
GOT GAME?
Fatimah Asghar; 2019; USA; 15 min. (Fully subtitled)
Khudejha and her preoccupied wing woman explore potential hookups at a video game–inspired kink party.
BREAKWATER (Quebramar)
Cris Lyra; 2019; Brazil; 25 min.; in Portuguese with English subtitles (fully subtitled)
Through song and dance, lyrics, and images, a group of young lesbians travel to a remote beach for New Year's.
6:23 AM
Geoffrey Breton; 2019; United Kingdom; 4 min.
It's the perfect first date, except they forgot one key element. Will their initial attraction be enough to move past this common social blunder?
I AM ME
Jazmine Smith; 2018; Canada; 4 min. (Fully subtitled)
The filmmaker and star takes us on her journey with makeup as a tool of self-expression, and a path to her identity as a trans woman.
BODIES LIKE OCEANS
KC Cory; 2019; USA; 13 min. (Closed Captioned)
KC dives into this dreamy portrait of photographer Shoog McDaniel, a self-described "queer, fat, Southern freak," whose work with fat bodies in nature transgresses reality.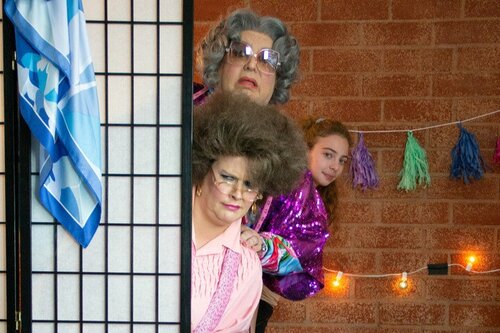 THE BRA MITZVAH
Stacy Jill Calvert; 2020; USA; 10 min. (Fully subtitled)
Becca navigates the awkwardness of bra shopping for their coming-of-age celebration while their bubbes weigh in with their opinions.
TRASHY BOOTY
Iris Devins; 2020; USA; 9 min. (Fully subtitled)
Two dumpster-diving trans women pick up a hitchhiking robot in an experiment on human kindness.
WERE YOU GAY IN HIGH SCHOOL?
Niki Ang; 2019; USA; 13 min. (Fully subtitled)
Two queer Asian-American women reminisce about the boyfriends they didn't like kissing and the straight girls who were definitely flirting with them.
BREAK IN
Alyssa Lerner; 2020; USA; 16 min.
What's more embarrassing than writing erotic fiction about your crush? Writing erotic fiction about your crush and then accidentally texting it to her.
AND, Three Dollar Bill is also co-sponsoring these film events with two other film festivals!
Co-Presented Events!Check out these events from our awesome community partners ️
QUEER AF @ SEATTLE ASIAN AMERICAN FILM FESTIVAL
Check out SAAFF's shorts program QUEER AF, MAR 4-14, featuring shorts depicting the experiences of Asian American queer people! Featuring SQFF 25 favs BIND, BLUE SUIT, and WERE YOU GAY IN HIGH SCHOOL?
SUBLET @ SEATTLE JEWISH FILM FESTIVAL
An audience fav at SQFF 25, SUBLET is playing at the Seattle Jewish Film Festival, available March 5-8. Visit SJFF's website for more info on their films, tickets, and passes!
(Visited 1 times, 1 visits today)