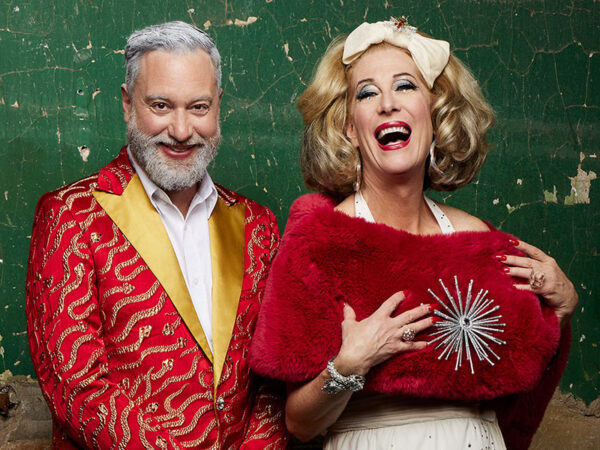 It's like there really is a Goddess of some sort and She heard our prayers:
"OH DIVINE GODDESS OF BRILLIANT ALTERNATIVE QUEER ENTERTAINMENT!!!! PLEASE REUNITE THE HOLY TEAM OF KIKI AND HERB AND SEND THEM TO SEATTLE AS PART OF A SIX CITY TOUR IN DECEMBER OF 2022!!! THANK YOU, OH BLESSED ONE!!!"
Yes…you heard that right. The deliriously daffy duo of Kiki and Herb, the octogenarian/timeless cabaret duo are touring for the first time in MANY MANY years. with a new holiday show, "DO YOU HEAR WHAT WE HEAR?" The pair have done a few shows here and there in the greater NYC Metro area in the last few years but this is the first time they've hit the road to visit Seattle since…well, a Bush was in the White House!
(And, yes, of course "Kiki" aka the divinity otherwise known as Justin Vivian Bond has been to Seattle MANY times in the last 16 years but it's the first time zhe's back with "Herb" aka musical genius Kenny Melman!)
The pair are doing a SMALL tour of only six cities this December for a super special holiday season show, opening in Boston on December 1st, then NYC on the 3rd and Philly on December 5th. THEN, they jet off to Seattle's beloved Moore Theatre for a show on Thursday, December 8th then San Francisco on the 9th and wrapping up their present in Los Angeles on December 11th.
From the press release:
This holiday season, prepare yourself for sleighing belles, rabid yells, and tidings of joy from New York's most iconic "octogenarian" lounge act, Kiki & Herb, created and performed by Justin Vivian Bond and Kenny Mellman. A match made in—depending on who you ask—a 1934 Western Pennsylvania children's asylum, the 90s San Francisco club circuit, or the dawn of time, this relentlessly fabulous duo will haunt audiences nationwide on a six-city tour starting in Boston with a brand-new holiday spectacular. Kiki & Herb: DO YOU HEAR WHAT WE HEAR? runs December 8, 2022. Hot off the heels of their sold-out run at Brooklyn Academy of Music last year, this tour will be Kiki & Herb's first shows out of NYC since 2007.
Whether it's an evening at Carnegie Hall, a sold-out run at Joe's Pub, or Kiki & Herb: Alive on Broadway (2008 Tony nomination), Bond and Mellman's signature cocktail of boozy banter, pop-culture shmaltz, and claws-out cultural critique has charmed cities across this nation for more than two decades. The infamous duo make their way through a number of seasonal songs, belting Christmas classics off their long-out-of-print (but two tracks will be available on Spotify October 18) album Do You Hear What We Hear and slinging enough cheer to choke down this holiday season.
Tickets officially go on sale on Friday, October 21 at 10am….BUT, we also happen to know there will be PRE-sale tickets happening on Thursday, October 20th at 10am….but you need a password/code to snag those tickets. It would be a FRIGHT if you didn't know that password….wink, wink.
This news is the best present we've received all year! FINALLY a new holiday show to get excited about!
https://www.stgpresents.org/calendar/13736/kiki-herb
(Visited 14 times, 1 visits today)