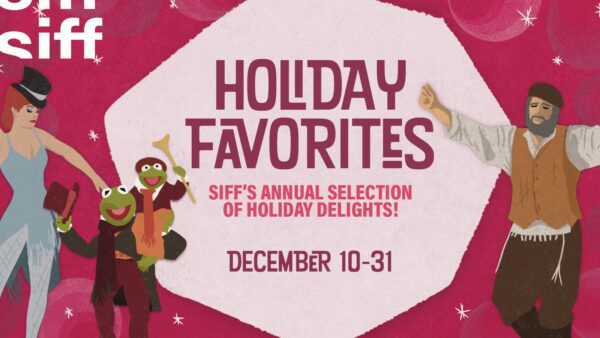 People LOVE going to the movies over the winter holidays! Especially if it helps with procrastinating from doing stuff you should be doing like cleaning the house, decorating, making cookies and buying gifts for loved ones!
For December 2022, SIFF has several beloved holiday films on their schedule to help get you through the season…everything from Muppets to blood soaked Xmas classics to sing-a-longs with Fiddler on the Roof!
The poo:
Ring in the holiday season with SIFF's Holiday Favorites, a collection of beloved seasonal classics returning to SIFF Cinema Uptown through the month of December. Including masterful musicals, holiday horror, favorites from directors Jim Henson and Irving Berlin, the lineup also includes Christmas Day & New Year's Eve SIFF traditions with sing-along screenings of Fiddler on the Roof & Moulin Rouge.

Visit siff.net/holidays for tickets & more information.
SIFF Holiday Favorites
SIFF Cinema Uptown: Dec. 10–31

The Muppet Christmas Carol: Charles Dickens' timeless tale of Ebenezer Scrooge (Michael Caine), his cold heart, and how the Ghosts of Christmas Past, Present, and Future seek to show him the error of his ways comes to life through the magic of Jim Henson's Muppets. Recently remastered, including the original song "When Love is Gone."
Arrive 30 minutes early for an exciting Muppet pre-show special! All ages welcome.
Saturday, December 10 @ 11:00AM
Sunday, December 11 @ 11:00AM
Wednesday, December 14 @ 7:00PM

Black Christmas: One part frosty Christmas atmosphere, one part stalk 'n' slash magnificence, and all parts awesome, Black Christmas is a timeless, terrifying, and demented holiday tradition. During their Christmas break, a group of sorority girls are stalked by a stranger. Leave the young ones at home for this spooky classic!
ONE DAY ONLY: Monday, December 12 @ 7:00PM
*Part of SIFF Holiday Horror Film Talks

White Christmas Sing-along: Irving Berlin's musical favorite follows the talented song-and-dance team of Bing Crosby and Danny Kaye, who join forces with the sister act of Rosemary Clooney and Vera-Ellen for a musical Christmas in Vermont. These special screenings come with free jingle bells and a pre-film music video sing-along featuring some of our favorite Christmas classics.
Arrive 30 minutes early to join the festive fun!
Saturday, December 17 @ 2:00PM
Sunday, December 18 @ 12:00PM

Fiddler on the Roof Sing-along: Party with the best Jewish-themed musical of them all by singing along to "If I Were a Rich Man," "Sunrise Sunset," and "To Life." Live klezmer music by Orkestyr Farfeleh. Doors open at 11:00am; show starts at noon. There will be a 10 minute intermission.
ONE DAY ONLY: Sunday, December 25 @ 12:00PM

Moulin Rouge! New Year's Eve Sing-along: Sing in the new year with Baz Luhrmann's musical spectacular—complete with free bling rings and a Moulin-inspired music video countdown. The show ends in time to head over to the Space Needle and catch the New Year's fireworks while shouting "Rooooooxannnne!" at the sky.
ONE DAY ONLY: Saturday, December 31 @ 6:00PM
(Visited 2 times, 1 visits today)