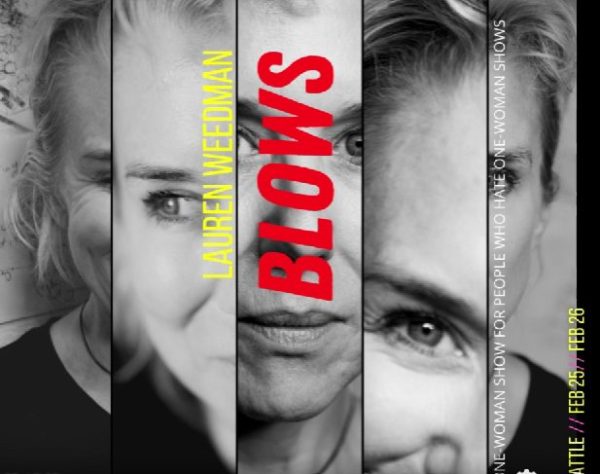 Hey…it's what you gotta do to get ahead in show business. It's not about who you know but who you…convince of your amazing gifts!!!
Sorta of a Seattle local, actress/comedian LAUREN WEEDMAN returns to Seattle for four big shows at Seattle's favorite cabaret venue, The Triple Door on Saturday and Sunday, February 25 and 26. It's an all new solo show "for people who hate solo shows" with 75% of the show being scripted and the other 25% being…"discovered during the performance".
Lauren is promising it will be a "wry, contemporary look at what it means to be a single mom, an artist, and a woman in today's creative economy. It is an exploration of what happens in the invisible second half of a woman's life, the part after all the traditional stories end and divorce, menopause, and impending financial collapse begin, while pursuing a career in the arts and resisting looming pressures to pack it up and get a 'real job'…"
As a blogger!
Very old people in Seattle (over the age of 40, thus old) will remember Lauren from the olden days when she appeared on beloved local sketchcom TV show "Almost Live" and from her award winning first solo show, "Homecoming" that debuted at On The Boards a very long time ago.
She's not a gay but she played the female best friend to the gays in the HBO series "Looking" a few years back. We really liked her in that.
Tickets for her new show are available at: https://tickets.thetripledoor.net/eventperformances.asp?evt=1929
Here's more blather about her and the show from the website!
Award-winning comedic actor, playwright and author Lauren Weedman returns to Seattle with special musical guest Tim Young (James Corden's Late, Late Show Band) in a new live music comedy show about single mothers, bankruptcy, isolation, survival, and dishwashers blowing the same fuse over and over again in your shit apartment. Blowing your life. Blowing dreams. Your mind—you get it. Lots of blowing.
Lauren works extensively in television and film: Abbott Elementary, Hacks, The Daily Show, True Blood, United States of Tara, Reno 911, Curb Your Enthusiasm, New Girl, Arrested Development, Looking, Hung, Will & Grace, Imagine That, Date Night, A Five-Year Engagement, The Gambler, Little Hours and Joshy. The host of the popular Moth storytelling slam in Santa Monica, Lauren performs and tours across the country. Her solo show Bust, about her work in the LA County Jail, was awarded a Macdowell Fellowship for playwriting.
(Visited 104 times, 1 visits today)