"DRAG ISN'T DANGEROUS" TELETHON ADDS BEVY OF CELEBRITIES, CORPORATIONS AND INDUSTRY AHEAD OF MAY 7 LIVE BROADCAST
ALI WONG, AMBER TAMBLYN, AMY SCHUMER, ASHLEY FINK, THE BOULET BROTHERS, CHARLIZE THERON, DAVID CROSS, GREYSON CHANCE, ISAAC MIZRAHI, JAI RODRIGUEZ, JESSE EISENBERG, KELLY OSBOURNE, LESLIE JONES, LONI LOVE, MARCIA GAY HARDEN, MARGARET CHO, SARAH SILVERMAN, SCOTT HOYING, TOM KITT, TS MADISON, WHITNEY CUMMINGS, WILSON CRUZ, VINCINT AND MORE JOIN THE SHOW
OH, my….the DRAG ISN'T DANGEROUS fundrainsing event/telethon scheduled for worldwide transmission on Sunday, May 7th is shaping up to be a huge mega event with scores of major names signing on in the fight to protect LGBTQ rights under attack right now, specifically new laws and proposed legislation popping up around the country targeting transgender, gender non-conforming and drag personalities.
Already announced stars included pretty much every major name in the RuPaul's Drag Race Universe…but not RuPaul. Alaska Thunderfuck, Bob the Drag Queen, Ginger Minj, Jinkx Monsoon, Trixie Mattel, Katya, Manila Luzon, Monet X Change, and many other divas have all signed up along with many others (including drag names NOT from RPDR World like Jackie Beat, Sherry Vine, and Desmond is Amazing).
Now, more names, including non-drag stars, are signing up. From the press release:
 The organizers of "Drag Isn't Dangerous," the biggest fundraising effort to combat recent anti-LGBTQIA+ legislation to date, are proud to announce that an overwhelming wave of entertainment industry talent, executives and businesses have signed on to participate in the live telethon broadcast worldwide Sunday, May 7 at moment.co/dangerous. 
The initiative is created by Producer Entertainment Group (PEG), a full-service artist management firm, record label and production company representing many of the world's top drag queens and LGBTQIA+ talent. PEG is joined by a coalition of media groups and companies including UTA, Concord, GLAAD, HeadCount.org, Q.Digital, OUTtv, Five Senses Reeling/Obsessed, Trixie Cosmetics, SERV Vodka, Loyal Studios, DeleteMe, Black Queer Town Hall and others who are contributing significant funds and/or resources to the cause. See below for a full list of participating talent.
"We at UTA are committed to being fierce advocates for LGBTQIA+ artists and their creative expression. It's why we are proud to support the Drag Isn't Dangerous telethon, which is not only bringing attention to the critical work being done to protect and uplift the community, but also supporting nonprofits that shepherd those values, said UTA Partner & Chief of Social Impact Rene Jones. "It's an honor to work alongside passionate agents and colleagues like Pranav Mandavia and Michael Grinspan, among many others, who continue to provide our LGBTQIA+ clients with platforms like this one that allow them to share their stories and impact the world."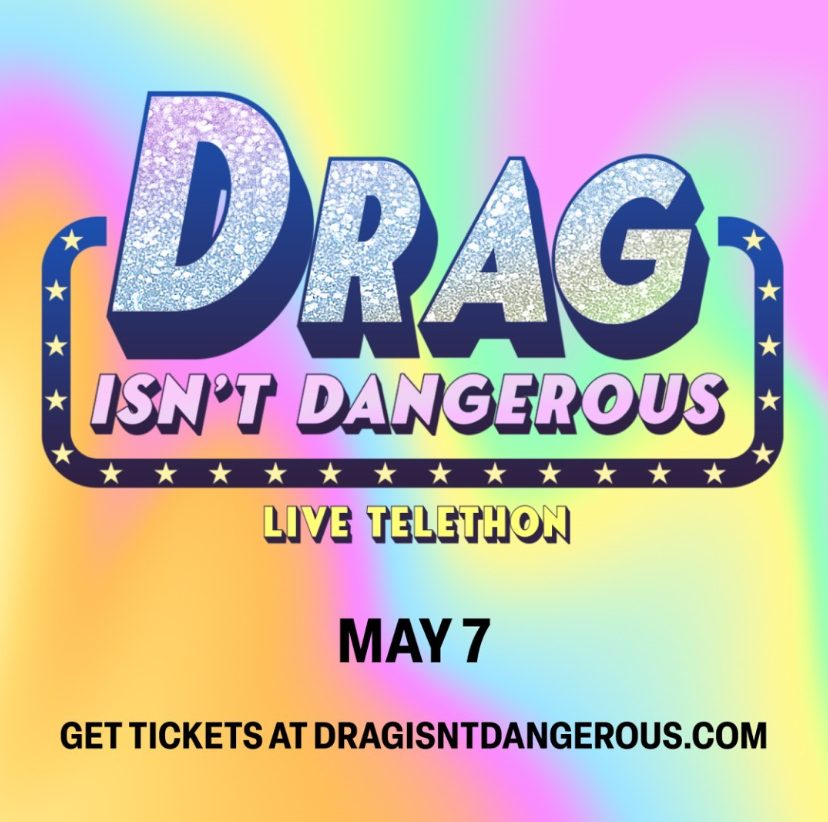 The highlight of the campaign is a one-night-only telethon on Sunday, May 7, at www.moment.co/dangerous. Hosted by a wide range of drag performers and celebrities, the event will feature a mix of live and pre-taped performances, appearances, and testimonials from drag performers, LGBTQIA+ entertainers and celebrity allies, as well as a live celebrity phone bank accepting callers' donations..
The full list of confirmed talent for Drag Isn't Dangerous includes:
Ada Vox, Alaska, Amber Tamblyn, Amy Redford, Amy Schumer, Ashley Fink, BeBe Zahara Benet, Blair Erskine, Blu Hydrangea, Bob The Drag Queen, The Boulet Brothers, Brandon Stansell, Charlize Theron, Chris Wood, Danielle Cabral, David Cross, Darcy & Jer, Darienne Lake, Desmond Is Amazing, Devon Green & Ned Douglas, Ella Vaday, Elektra Fence, Emma Hunton, Eureka O'Hara, Frankie Grande, Ginger Minj, Glass Battles, Greyson Chance, Henry Platt, Heidi N Closet, IMHO (Alexis P Bevels & Darby Lynn Cartwright), Isaac Mizrahi, Jackie Beat, Jasmine Kennedie, Jai Rodriguez, JAX, Jen Kober, Jesse Eisenberg, Jiggly Caliente, Jinkx Monsoon, Jujubee, Justin Martindale, Katya, Kelly Mantle, Kelly Osbourne, Kerri Colby, Kitty Scott-Claus, Lala Ri, Laganja Estranja,Leadr, Leland, Leslie Jones, Loni Love, Love Bailey, Manila Luzon, Marcia Gay Harden, Margaret Cho, Mercy Collazo, Militia Scunt, Miz Cracker, Monét X Change, Nika King, Nina West, Peppermint, Salina EsTitties, Sarah Silverman, Scott Hoying, Sherry Vine, SNG, Stephen Trask, Sutton Stracke, Tammie Brown, Tolliver, Tom Kitt, Trinity the Tuck, Trixie Mattel, TS Madison, Vanity Milan, Whitney Cummings, Wilson Cruz, VINCINT, Zee Machine with many more names to be announced.*
Ticket sales & donations for the telethon have already surpassed $100K since the event was first announced. All net proceeds from the event will be divided among approved charities that support LGBTQIA+ causes and drag performers in need, especially in states where they face discrimination and bans. None of the performers or organizers are taking fees for their work on the campaign. All donations are tax deductible and 501c3 verification will be available on request.
The official pre-show donation page for "Drag Isn't Dangerous" is at:https://tiltify.com/dangerous.
For more information and updates on the "Drag Isn't Dangerous" campaign, visit www.dragisntdangerous.com.
Direct ticket link for "Drag Isn't Dangerous" fundraiser: www.moment.co/dangerous
(Visited 65 times, 1 visits today)