This year, SeattleGayScene.com is thrilled to sponsor some of the Pacific Northwest's biggest, most amazing Halloween experiences.
But all month long, there are amazing things happening – even some stuff we aren't sponsoring! Check back on this page frequently for the latest!
– – – – – – – – – – – –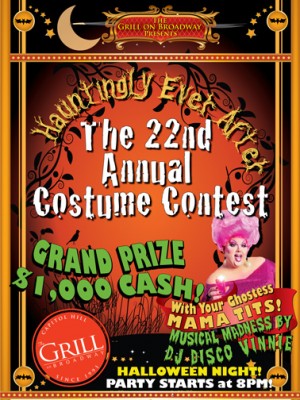 Costume contest entrants are invited to bring their most creative efforts to the enormous costume contest. "R" rated costumes are welcome (but within the bounds of the law, or course!).
The Grand Prize winner will be awarded $1,000 Cash!
2nd and 3rd place winners will be presented with gift cards for The Grill on Broadway.Seattle's Skyscraper Hostess MAMA TITS (http://pinkistheneweverything.com/) will be hosting, and DJ Disco Vinnie (http://www.djdiscovinnie.com/) will keep the beats booming all night long.Cocktail specials will be on offer throughout the evening. Early arrival is always recommended for Halloween!
OTHER Terrific Events!!!
Chocolate Kisses Present A Spooktacular Affair at Waid's! 10pm to 2am with DJ Lawgirl! Costume Contest! And, so much MORE!
The zexy kids at Purr are going all rock n' roll on us with their Rock n Roll Nightmare Party that naturally features a Costume Contest and a big, phat $1000 Grand Prize…oh, and the usual crowd of super sexy people on BOTH sides of the bar…and, there's NO cover!!!!
Over at the Cuff Complex, their Halloween party on Saturday/the 27th features DJ PornStar, a HUGE prize costume contest and a $10 cover….oh, and scores of horny, barely dressed men in their 40's and 50's…time to find a Daddy Bear!
For a different kind of scary, check out R Place…they have RuPaul Drag Race star's Raven and Jujubee in the house ALL weekend! (and, Monday the 29th as well for Drag Race: All-Stars!)
OutWest Bar in West Seattle is also having a Halloween Bash…for the low key, West Seattle crowd this might be a lovely option if you don't feel the need to face the crazy ass crowds on The Hill on Saturday…as usual, costumes and drink specials are on hand.
Here's an option for our friends in Tacoma…The folks at The Mix are hosting a huge Halloween party and fundraiser (for Tacoma's LGBT youth) and it features our good friends, DJ L.A. Kendall and DJ Tony Burns! And, yes, there IS a costume contest! With hostess Heather Hysteric.
(Visited 1 times, 1 visits today)