TRUCE, by B.Michael Peterson – The Workshop Performances [Fringe Explosion]
November 13, 2015 @ 7:00 pm

-

8:30 pm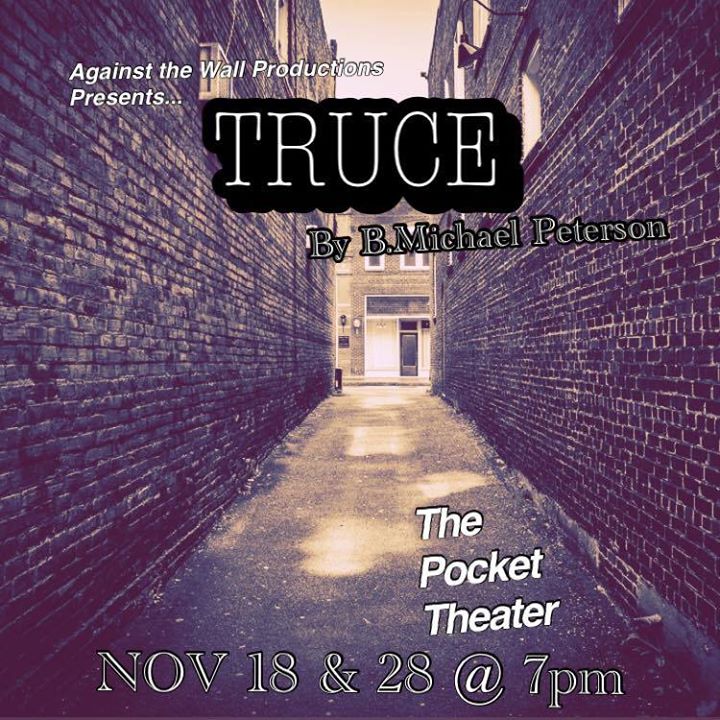 TWO WORKSHOP PERFORMANCES AT THE POCKET THEATER [FRINGE EXPLOSION]
TRUCE, by B.Michael Peterson
Featuring Jason Quisenberry, Jacob Andrew, Jeremy Behrens and Mia Tesfay.
Stage Management by Petra Zanki
Dramaturgy by L.Nicol Cabe
Makeup Design/Costume Coordination by Angel Reichl
Co-productions between Against the Wall Productions and The Pocket Theater / A part of FRINGE EXPLOSION
Friday, November 13th at 7:00pm & Saturday, November 28th at 7:00pm
Tickets are $10 in advance: https://thepocket.vbotickets.com/event/Truce_Fringe_Explosion/11020
Online tickets sales closes 4pm day of the show; Tickets are $14 at the door.
CASEY and JESSE are two men in a relationship that goes sour; JESSE meets AARON who saves him from an abusive relationship and STORMY is the mediator over issues of domestic violence, an HIV diagnosis and gay teen suicide. In the end what will JESSE do? Go back to CASEY or start a new life with AARON?
Related Events