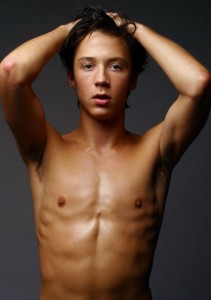 I don't think this is an "Official" event of any kind, but a bunch of like minded folks got together on Facebook and created this event, "Queers Go Ice Skating" and I think it's a great idea, (if you're inclined to wearing splangly outfits and prancing around on thin metal blades on frozen sheets of ice.) Here's the info:
Wouldn't it be fun if a bunch of queers went ice skating?

Admission to the ice rink is $7, and includes ice skates.

Here's the ice rink details:

Winterfest Ice Rink
Nov. 26 – Jan. 2, 2011
Sun. – Thurs., 11am – 8pm
Fri. – Sat., 11am – 10pm
Fisher Pavilion, Prices Vary

Glide into the season with the greatest of ease. For novice or Olympiad, Winterfest Ice Rink offers fun for all. Admission: $7 for adults, $5 for children ages 6-12, $2 children ages 5 and under, includes skate rental. Cash only. Special hours: Dec. 24 closes at 4pm, Dec 25 closed, Dec 31 closes at 11:30pm.
Please remember this is not an officially sanctioned event put on by Seattle Center or anyone else…don't go expecting any "Welcome Queer Skaters!" or hostessing by gaily dressed drag queens! Also: Johnny Weir will NOT be in attendance…though, maybe in spirit.
Tags: Outdoor Fun, Seattle Center