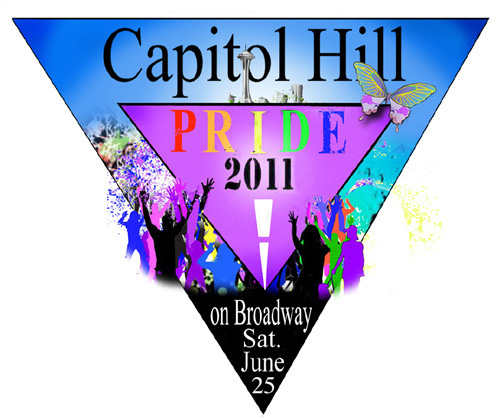 I spoke too soon, or I'm guilty of assuming and we know what that makes of ME! I reported last week that it looked like the Broadway/Capitol Hill Saturday Pride Festival probably wasn't happening, but it looks like it WILL be returning. Capitol Hill Blog has the story. Although the organizers of the last couple of Broadway Pride events had to close up their business, Seattle Museum of the Mysteries at its Capitol Hill location,, they have apparently resurfaced in Pioneer Square and owner Charlette LeFevre will continue to organize the Broadway event, which is scheduled for Saturday, June 25 from 11am to 11pm. It also looks like it will be very similar to the previous events, with Broadway blocked off from East John to Roy for booths, events, and entertainment. And, businesses and non-profits interested in hosting a booth, can go to the website for more information on how to sign up.
The theme for this year's event will honor the repeal of DADT and LBGTQ men and women who serve/have served in the armed forces. No further details or a line-up of entertainment and events has been announced.
It will be interesting to see how they do this year. Last year, the official Pride events made an effort to NOT schedule events during the Capitol Hill/Broadway events on Saturday, but this year the official Pride organizers have scheduled a big concert for Saturday at Seattle Center, in addition to the night time "Red" Parties. Will there be a fierce competition for audiences and talent between the various groups? It remains to be seen, but we'll keep you posted as events unfold.
(Visited 1 times, 1 visits today)