It's all about re-runs tonight.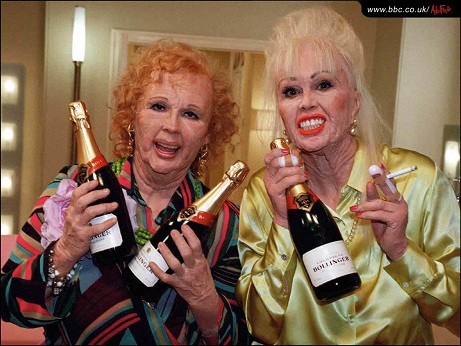 We know you probably own every episode and have them all memorized, but true AbFab fiends will want to head to Central Cinema tonight to have an AbFab TV Dinner with Edina Monsoon, Patsy Stone, Saffy, Bubble and Gran. Four episodes of the beloved series are being screened starting at 7pm and it's only $5 to attend, which applies towards a food voucher so it's a great deal. If you're feeling comfy at the Central, hang around and get a ticket for Jim Jarmusch's classic, Mystery Train at 9:30pm. Wear your best Lacroix and feel FABULOUS!
If you're obsessed with cheesy but highly entertaining tv from the 70's/80's/90's then you might have the mad skillz to compete in tonight's Aaron Spelling Bee at Lobby Bar.  For those of you clueless in the Pop Culture Department, Mr Spelling was the King of Television for 30 years producing among other things, Charlie's Angels, Starsky & Hutch, The Love Boat, Fantasy Island, Dynasty, Beverly Hills 90210, Melrose Place and everlasting TV starlet and daughter, Tori Spelling. It's all part of Lobby Bar's weekly trivia contest, Big Gay Trivia and it starts at 7:30pm. And, yes, there WILL BE some SPELLING REQUIRED!!!
Tags: AbFab, Big Gay Trivia