Are you fretting because apparently your invites to the Vanity Fair or Sir Elton John Oscar Party events in LaLa Land must have been lost in the mail? Or, maybe you just can't afford to pop down to the City of Lost Angels for Sunday night's big event, the 83rd Annual Academy Awards. AND, you don't want to watch it at home, wearing sweat pants and your bedroom slippers… Well, you have PLENTY of options to view the Oscars in a party atmosphere in the Seattle metro area and we're going to run them down for all of you.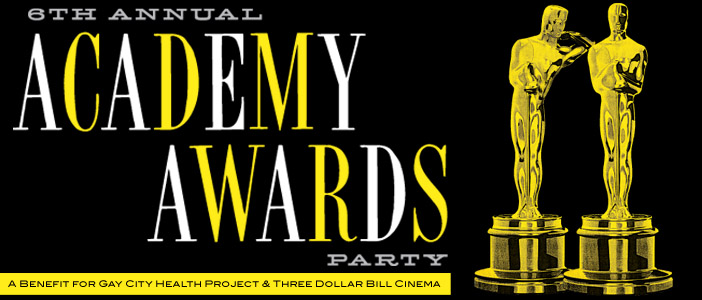 First and foremost, the big grand daddy/mommy event for the LGBTQ community will be Three Dollar Bill Cinema/Gay City's 6th Annual Academy Awards Party which is taking place at everyone's favorite Seattle movie theater, the Cinerama. A fundraiser for two of our favorite Seattle non-profits serving the queer community, the party offers Oscar fanatics the opportunity to walk the Red Carpet, enjoy hors d'oeuvres and cocktails, and take a chance on winning some fantastic raffle prizes PLUS the benefit of watching the Oscars on the BIGGEST movie screen in town and all in the comfort and beauty of the recently remodeled Cinerama movie theater. What more could you ask for? The event is 21+ and there are TWO levels of ticketing, a General Admission ticket for $25 with an arrival time of 4:30pm and a VIP Package for $50 which gets you preferred seating, earlier admission to the VIP Champagne Reception at 3:30pm, an Oscar Party Gift Bag, and more. (Three Dollar Bill members get a $3 discount on all tickets.) To purchase tickets and for more information, check out the website at Three Dollar Bill or Gay City. Proceeds from the event, benefit both organizations. We're going to be there and encourage you to do the same!
If you can't make it to the Three Dollar Bill/Gay City party, you have TONS of other Oscar watching options including the Lily Armani hosted Party at Lobby Bar, the Central Cinema shindig for folks on a budget, the Big Brother/Big Sister Bash at The Big Picture, the Tom Skerritt hosted Film School Party at The Triple Door (you KNOW we love the Skerritt!), the Reel Grrls Party at Hotel 1000 and options in Tacoma and Bellevue as well. Here's the calendar…click on the links for more info.
To be honest, we don't get that excited about movie award shows anymore, (we USED to be nutz about them until we decided that art isn't a horse race, but that's fuel for another discussion…) but we love parties with hors d'oeuvres and gin and mingling on the RC (though we don't have the wardrobe for it) and who doesn't love the opportunity to make fun of celebrities, their fashion choices, and their teary acceptance speeches. That, and the whole praying for a WTF moment like a drunk presenter, some escandalo, or maybe a streaker or two. All three would be AWESOME! (Especially if host James Franco was the scandalous, drunk streaker…)
Tags: Academy Awards, Cinerama, Gay City, Oscar Parties, Three Dollar Bill