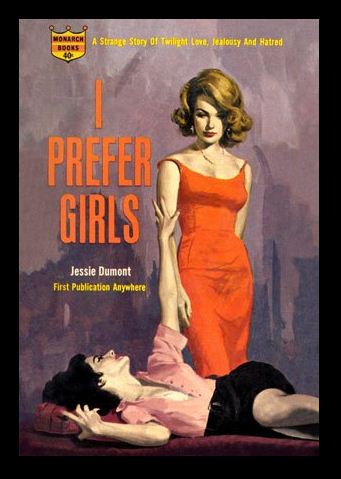 There are a lot of fun events heading our way that are geared towards the Womyn of Seattle…Check out the new Beebo Brinker Pulp Cabaret at Re-bar on Thursday…It's a new monthly event that evokes those tawdry, pulp novels of the 1950's. Sounds very, very zexy and "Mad Men" ish. Also, for you Power Ladies, check out Greater Seattle Business Association's quarterly "Women at the Top" event at the Seattle Sheraton. Special Guest Kate Kendall, the Executive Director of the National Center for Lesbian Rights is coming up from San Fran for the event on Thursday.
So much to do…so little time.
Upcoming Events of Interest for Women
Some links require Facebook login
| | |
| --- | --- |
| Apr 28 | Beebo Brinker Pulp Cabaret @ Re-bar Lesbian Pulp Fiction in a 1950's setting in Cabaret form! New Monthly show with Fuschia FoXXX, Ginger Snapz, Whisper De Corvo and many more! Hot! |
| Apr 28 | GSBA "Women at the Top" @ the Seattle Sheraton The Power Ladies of Seattle mingle, drink and network. Put on your best Power Suit and break that glass ceiling… With special guest Kate Kendall Executive Director from National Center for Lesbian Rights! |
| Apr 30 | LeFreak Queer Dance Party w/DJ Amateur Youth @ Wildrose Party down with an event for the entire community. |
| Apr 30 | Best Breast in the West Contest @ Benchwarmer in Kent This event confuses us…but Benchwarmer/the former Swank IS a queer bar…right? "If you think you have the equipment it takes to be the champion, come down and enter the contest. $3 Cover after 9pm, dancing with DJ Slim all night!" |
| May 3 | Pink Taco Tuesday Special Leather Edition @ The Wildrose Ruby Rouge hosts a special edition of Pink Taco Tuesday with a leather theme…"A SEXPLORATION OF SEATTLE'S LGTBQ COMMUNITY" |
| May 7 | Lea DeLaria @ The Triple Door. America's FIRST out lesbian comedian returns to Seattle to sing jazz standards. Not to be missed. |
| May 7 | Hot Flash/Seattle @ Neighbours Monthly dance event for zexy ladies who aren't 23 anymore, and the ladies who love'em… |
| May 7 | Sistah Sinema @ The Wildrose Monthly film event for Black Queer Womyn but open to all. This month: "Metrosexuality". 3pm to 6pm. |
| May 14 | Brush Off @ The Wildrose Monthly dance party with special guests, Sports and Concours d'Elegance. |
| May 20-22 | Sisters in Song: Seattle Women's Chorus "Road Show" The awesome women of the SWC hit the road for a weekend of music in Walla Walla (5/20), Spokane (5/21) and Ellensburg (5/22). |
| May 22 | Lezberados @ Neighbours "Celesbian Latina comedians Sandra Valls and Mimi Gonzalez bring their unpredictable and always hilarious wit to Seattle for one night only." |
| Jun 3 | "Yes You May!" A joint book release party for Tara Hardy's Bring Down the Chandeliers and Elaina M. Ellis's Write About an Empty Birdcage. At Fremont Abbey Arts Center. 8pm to 11pm. |
| Jun 4 | Beauty Pageant Bus Ride Party/Benefit Be a beauty queen for a night and be driven to venues all over Seattle! A benefit for BABES Network, women facing HIV together. |
| Jun 4 | Seattle Storm Home Opener Will the Ladies of the 2010 WNBA Championship Seattle Storm take another title? It all starts at Noon at Key Arena versus Phoenix Mercury. |
| Jun 25 | RED Pride Women's Party @ The Baltic Room Dance Pride Weekend away with Spinderella, Go-Go Girls and every hot woman in Seattle! Official event of Seattle Pridefest 2011 and Girl4Girl but all are welcome. |
| Oct 1-2 | Seattle Women's Chorus: "True Country" @ Benaroya Hall Out Country/Western singing star Chely Wright joins the Chorus for two not to be missed shows of C/W standards. 2pm both days. |
Weekly Recurring Events for Women
All events subject to change.
Some links require Facebook login
Have an event to add/report? Use the "Contact Us" form.