Are we FINALLY here? The moment of the grande finale of the third season of RuPaul's Drag Race? Absolutely, honeys! Memories of the lost queens surface with the final three and they prepare for their final challenge in this competition: perform with RuPaul in her music video of "Champion". First they had to learn choreography with Ryan Huffington, who I ABSOLUTELY adore! That is one fierce bee-atch! Just like every season since the beginning, the final three queens have difficulty with the choreography. And, included as part of the routine, each queen has an intimate rendezvous with a member of the Pit Crew which twitterpates our "married" queen…
I'm a married woman. Sorry baby!

-Manila Luzon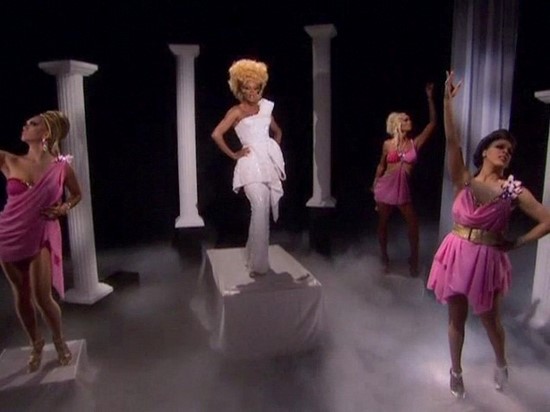 Well, I guess they didn't have much budget left for a nice set…the video shoot for RuPaul's "Champion".
During the filming of the video, Raja messes up a few times during the dance choreography, Alexis blocks everyone's view with her gigantic drag hair (honey, it's not drag unless a queen pulls out the big hair) and Manila can't seem to place her foot on the right mark! But the girls did a fabulous job and the video was a stunning success. The girls prepared themselves for the final runway presentation with their most fierce glam. Alexis provided us with her utmost pageant dress and attitude, Manila looked stunning in her runway and Raja gave us runway fierceness in her cabaret eleganza. Down to the bottom line, RuPaul sends Alexis home first and leaves Raja and Manila to lip sync for the final time to RuPaul's "Champion".
Now the moment of truth and by this point in the competition it was pretty clear who the winner was going to be…
SPOILER ALERT!!! Winner revealed after the Jump!!!
RAJA… LONG LIVE QUEEN RAJA!
At least this season there was no queen hyperventilating on the runway, gasping for air. Just tears of happiness. From the start I really enjoyed Raja and her spice.
A special note about the upcoming Drag U, Season Two: We finally got a reveal of the professors of Drag U Season Two. Ladies and gents, meet the 2011 Professors…
Queen Tyra Sanchez, Queen Bebe, Raven, Manila Luzon, Pandora Boxx, Jujubee, Carmen Carerra, Ongina, and Shannel. School is in session beginning June 20th on Logo.
"Don't you dare and flunk it up!"
AND, we'll be back next week to wrap up RuPaul's Drag Race Season Three with a recap of the big Reunion Show…will there be CATFIGHTS?
We hope so…
(Visited 4 times, 1 visits today)