But, she ALREADY is an All-Star! She WON Season Five of the main show?!?!!!!??!!!
Sigh. But, competitive reality television programs LOVE any ability to squeeze more product/money out of a franchise so…there's that. And, RuPaul desperately needs that money to keep her well stocked in foundation and concealer…so much to conceal!
(fracking wells…COUGH!)
Yes, Jinkx Monsoon and 7 other WINNERS of various iterations of the Drag Race empire will compete against each other in RuPaul's Drag Race: All-Stars Season 7 starting May 20th on Paramount+ in the U.S. and Canada (and, available to watch on World of Wonder's app.
And, the other 7 are all winners too including fan favorite (who we also adore) Raja from Season 3 and then a bunch of other hobags from seasons we didn't bother to watch.
The full list via the press release:
JAIDA ESSENCE HALL (Winner, Season 12)
Insta/Twitter: @jaidaehall
Look over there! Season 12's winner and trade of the season is back to snatch another crown. With her dazzling charisma and show-stopping talent, Jaida remains the essence of beauty, and she's ready to prove she's the Queen of All Queens.
JINKX MONSOON (Winner, Season Five)
Twitter: @jinkxmonsoon Instagram: @thejinkx
Season five champion Jinkx Monsoon is a powerhouse performer and one staunch character! This beloved, quirky queen is a force of nature, but can she prove it's Monsoon season – again?
MONÉT X CHANGE (Winner, All Stars 4)
Twitter: @monetxchange Instagram: @monetxchange
Miss Congeniality of season 10 and winner of All Stars four, Monét X Change is back, and the exchange rate is about to go up! Get ready to soak up all her charisma, uniqueness, nerve and talent as Monét stakes her claim on another crown!
RAJA (Winner, Season Three)
Insta/Twitter: @sutanamrull
Season three's Drag Race superstar, Raja inspired a generation of young queens with her creativity and style. Now this luminous legend is back to show once and for all that she is still the champion.
SHEA COULEÉ (Winner, All Stars 5)
Insta/Twitter: @sheacoulee
Fashion icon, performer and activist, Shea Couleé is the epitome of drag excellence. On All Stars five, she ruled the runway and snatched the crown. Now she's back to slay a new day … and claim the ultimate prize!
TRINITY THE TUCK (Winner, All Stars 4)
Insta/Twitter: @trinitythetuck
The mighty Tuck is back – and tighter than ever! On All Stars four, she secured the crown with her charisma, uniqueness, nerve and talent. And now she's ready to prove she's the holy Trinity of drag. Will the Tuck take all?
THE VIVIENNE (Winner, Season One RuPaul's Drag Race U.K. )
Twitter: @thevivienneuk Instagram: @thevivienne_
Ready for a British Invasion? The first crowned queen of Drag Race U.K., The Vivienne is here to represent British drag on the OG main stage. Can this talented performer and glam grande dame claim the crown for queen and country?
YVIE ODDLY (Winner, Season 11)
Twitter: @oddlyyvie Instagram: @oddlyyvie
The queen of the queerdos is back to fly her freak flag and prove she's the Queen of All Queens. Season 11's eclectic winner stole our hearts and blew our minds with her own brand of drag fabulosity! Now, she's here to even the odds and take home another crown!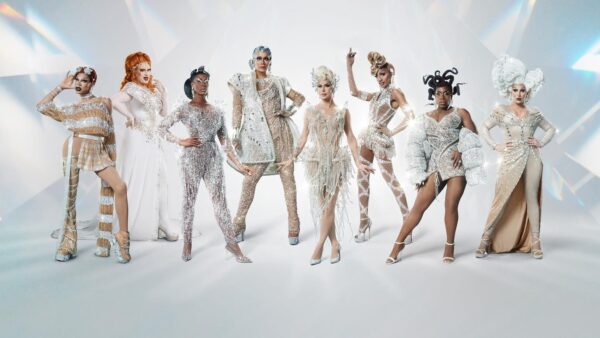 Paramount+ and parent company Viacom who also own VH1 which shows the regular never ending version of RPDR and production company World of Wonder are making a BIG ASS deal out of this "Queen of Queens" show. There will be an ass ton of "specials" leading up to the actual series including an extended sneak peek on the final episode of the seemingly never ending Season 14 of RPDR on Friday, April 22nd. THEN…
Via pr:
Leading up to the premiere on Paramount+, VH1 will air COUNTDOWN TO ALL STARS 7: YOU'RE A WINNER BABY, a four-episode special where fan-favorite queens from RUPAUL'S DRAG RACE watch and react to the queens from RUPAUL'S DRAG RACE ALL STARS season seven's very best moments. The dolls are offering their funniest and juiciest commentary all while fangirling out for our herstoric all winners season. COUNTDOWN TO ALL STARS 7: YOU'RE A WINNER BABY will air Friday, April 29 and Friday, May 20 (8:00 PM, ET/PT) as well as on the official RUPAUL'S DRAG RACE YouTube account.
It's all so exhausting.
But, we'll be rooting for Jinkx and Raja! We like them both! There's a rumor that they don't send anyone home every week…in other words, all 8 will be present to compete in every episode to the very end but the same site who made that claim also stated that Bianca DelRio would be in the 2nd series of this format of "Queen of All Queens" and THAT ain't never happening…well, unless they paid her a shit ton of money.
Also, we're concerned about our Jinkxie…she has fierce competition here! Now, none of these bitchez can compete with Ms Monsoon when it comes to comedy or live performance but when it comes to style/runway and (boring) traditional lip sync shit, she could be in danger.
And, why do this show and mess with your legacy as a winner?
Oh….the winner gets $200k.
Duh.
(Visited 2 times, 1 visits today)