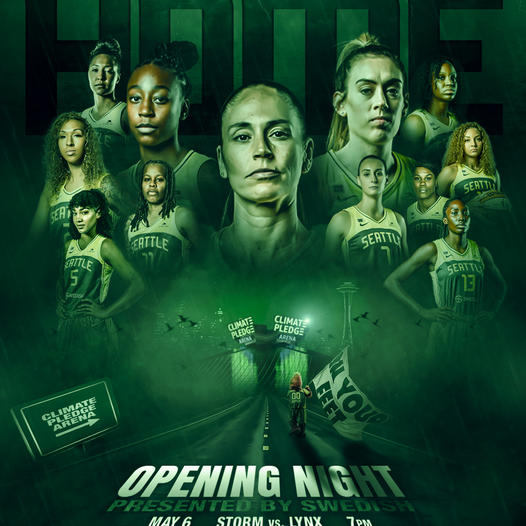 Storm Season is a'comin' and you need to batten down those hatches and get your season passes and tickets to Seattle's beloved women's basketball team!
(Also: the most winning-est team…)
The Seattle Storm host their first home game on Friday, May 6th versus the Minnesota Lynx. It marks the return of the Storm to the arena formerly known as Key Arena….the Storm have played elsewhere the last few seasons while Key was remodeled into Climate Pledge Arena.
Grab tickets at: https://www.ticketmaster.com/seattle-storm-tickets/artist/806022
Also note there's a pre-season game on April 23rd here in Seattle!
More about the season via the Storm web:
The WNBA expanded its schedule in 2022 with each team playing 36 games—the most regular-season games in league history. Seattle faces all 11 teams three times while playing a fourth game against three teams: Las Vegas, Minnesota, and Dallas. The Storm plays 18 games at home this season with half of those coming over the course of the team's first 11 games.

After opening night, the Storm hit the road to face Las Vegas (May 8) before heading to Phoenix (May 11). The team then returns home for eight-straight games from May 14 through June 7—the longest homestand in franchise history. The front-loaded home schedule means the Storm plays 11 of its final 16 games on the road.

"We are excited to return to Seattle and to play in our new home, Climate Pledge Arena, in front of our incredible fans. It feels like it has been such a long time since we've played in our own building, so it's special to tip off the 2022 season in this amazing facility," said Storm Head Coach Noelle Quinn. "The key to our challenging schedule is to have a solid start. Playing at home early in the season provides us with an opportunity to build momentum and to compete in an electric atmosphere. I can't wait to get going. Go Storm!"

The WNBA regular season ends on Sunday, August 14, with the Storm playing at Las Vegas. The WNBA playoffs begin that week featuring the new playoff format which does away with single-elimination games. The playoffs are slated to end in early September to allow players to represent their countries at the FIBA World Cup in Australia September 23 – October 3.
(Visited 1 times, 1 visits today)