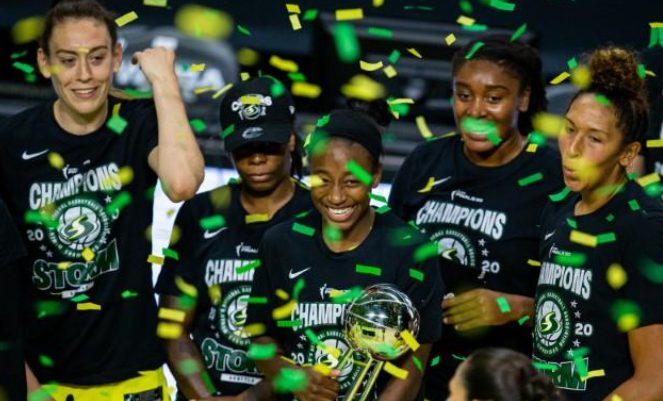 The most consistently excellent athletic team in Seattle sports history, the Seattle Storm of the Women's National Basketball Association won their 4th championship title on Tuesday, October 7th defeating the Las Vegas Aces 92-59 in Game Three of the the 5 game 2020 championship series.
It was also a 4th win for the legendary point guard Sue Bird who is likely the most celebrated female athlete of all time. The 39 year old superstar who came out as a lesbian in July of 2017 announcing she was in a relationship with fellow athlete Megan Rapinoe, an All-Star soccer player for Seattle Reign, has an impressive 20+ years record as a basketball legend:
The victory stamped Bird as part of an elite group of athletes with awe-inspiring accolades. Her list of victories is mind-boggling for any sports fan. She has won four WNBA Championships in four different decades, making her the first ever to do so To put that into perspective, only journeyman John Salley and all-time great Tim Duncan have done the same in the NBA. She's also won four Olympic gold medals playing for Team USA, tying her for the most golds won by an individual basketball player and only one behind Teresa Edwards for most medals ever. Add four FIBA World Cup titles and five EuroLeague Championships, and one begins to realize there really is no living comparison to the achievements of the 11-time WNBA All-Star and 8-time member of the All-WNBA team. Oh, and she also won two NCAA Championships playing for UConn.
It was a difficult season for the Storm and professional sports in general with ongoing Covid-19 pandemic shortening their season and playing games without large audiences of fans.
The pandemic also means the Storm won't be getting a parade in Seattle. Instead, finals MVP Breanna Stewart, guard Jewell Lloyd, center Mercedes Russell and assistant coach Ryan Webb will raise the Storm's flag on top of the Space Needle Friday afternoon, October 9th with an online digital celebration to follow at 4pm.
Fans of the team can register for the virtual rally here.
And, finally, a big toast to the Seattle Storm for their incredible success!
(Visited 2 times, 1 visits today)