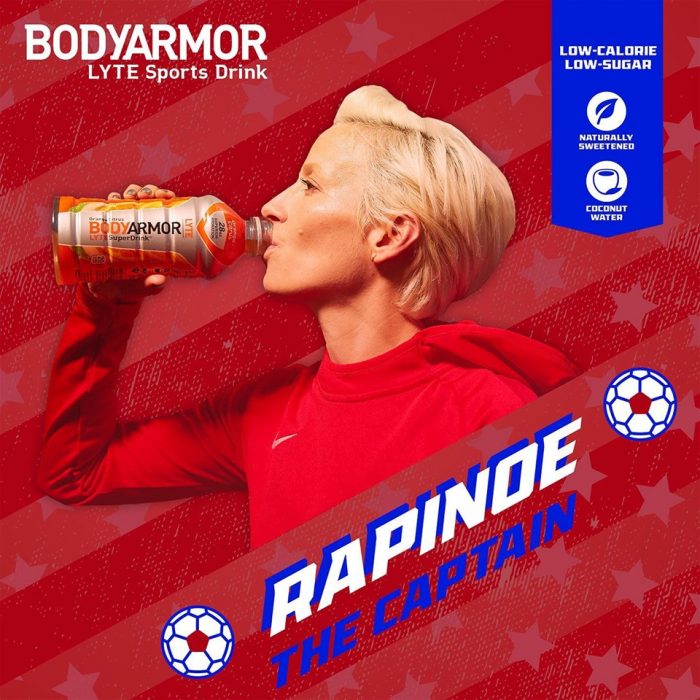 It's been a controversial but exciting couple of weeks for Seattle Reign superstar Megan Rapinoe. The blonde super athlete has attracted much media attention not only for her superb playing in the World Cup for Women's Football/Soccer this year on Team USA, but also for statements and actions she has made during the tournament including not actively participating during the playing of the U.S. national anthem before matches, a political statement made by other athletes in support of the Black Lives Matter movement. Unlike some athletes who kneel, Rapinoe stands quietly, and doesn't sing the anthem or place her hand over her heart.
Illegitimately elected U.S. president Donald Trump attacked Rapinoe on Twitter for this as well as for Rapinoe's statement when asked if she would be excited about the possibility of a White House visit for Team USA after the World Cup is over. The star's response: "I'm not going to the fucking White House." Trump and his supporters attacked Rapinoe which led her girlfriend, WNBA star Sue Bird to write a piece "So the President F*cking Hates My Girlfriend" for The Players' Tribune where she declared: "First of all, I've gotta get this on the record, if it's not already clear: I'm SO proud of Megan! And the entire damn USWNT!"
Seattle's favorite lesbian superstars have been an official couple for the last two years when Seattle Storm star Bird simultaneously publicly came out of the closet and announced her relationship with Rapinoe. In 2018, the two posed (tastefully) nude for ESPN's annual "Body Issue" (story HERE!) 
Bird also wrote: "
"What's it like to have the literal President of the literal United States (of literal America) go Full Adolescent Boy on your girlfriend? It's WEIRD. I'd say I actually had a pretty standard reaction to it: which was to freak out a little."

"That's one thing that you kind of have to know about me and Megan: our politics are similar — after we won the WNBA title in Seattle last season, no way were we going to the (fucking) White House! — but our dispositions are not..as we've been talking through a lot of this stuff as it's been happening to her, I'll be honest. Some of it scares the shit out of me!"
And, Rapinoe is standing strong against any White House appearances and is encouraging her teammates to do the same.
Meanwhile, the U.S. women's team continues their domination in the World Cup win today's 2 to 1 win over England which will put Team USA in the Finals on Sunday, July 7th against the winner of the Netherlands vs Sweden semifinal. Rapinoe actually sat today's game out to continue healing a hamstring injury suffered in the team's quarter final win over France. 
Rapinoe told Fox Sports: "I feel like I'll be ready for the final."
(Visited 1 times, 1 visits today)