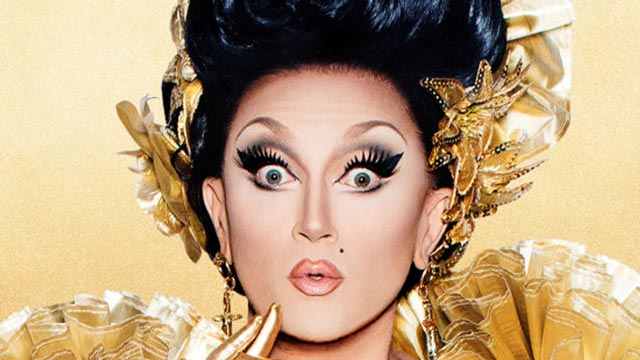 Will the last Drag Queen Superstar leaving Seattle please remember to shut off the gas and lock up the patio furniture?
In the last couple years, a slew of drag stars have packed up their bags for warmer and/or starrier climes…RuPaul's Drag Race Season 5 winner JINKX MONSOON's home base is now San Francisco. MAMA TITS moved to Puerto Vallarta to be closer to her residency gig as a cabaret star down there. JACKIE HELL just moved to New Orleans.
I've been told ROBBIE TURNER went back to the farm to help out the folks with the daily milking and that nasty boll weevil infestation in the alfalfa crop…of course, that's probably not true.  (I also know someone who thinks he sold her a hat a few weeks back. Since Robbie Turner is the only adult in the Tri-State area to still wear a hat, we're guessing she's still around somewhere close by. Or, she's wearing a cute hat to bail the hay and inseminate the cattle.)
The latest to announce a retreat from the Emerald City is RPDR Season 6/All-Stars 3 star BenDeLaCreme who snuck that bit of info into an interview with Billboard.com. It was mainly a promo piece to shill for DeLa's latest solo show, Ready to Be Committed, which is all about marriage, and is currently being performed at Provincetown's Crown & Anchor through the end of August. In addition to talking about their own engagement to long time boyfriend Gus Lanza, DeLa let it drop they plan on moving to Los Angeles next year.
From Billboard.com:
Are you looking to work in different media?

I'm really happy I'm on the trajectory I'm at, and I want to keep growing it. I've confided the larger productions I've done to the Pacific Northwest, but I'd love to tour some of these larger productions. And Gus and I will be moving to L.A. next year and I really want to start pitching television stuff. There's so many queens in the reality TV world, but I would love to get into scripted work.

What kind of format?

One of the ones right now that's resonating is having created my fourth solo show that's deeply exploring a subject but in a campy way that involves playing multiple characters and puppetry but exploring larger ideas through that. I feel like that would make a really fun half-hour or hour-long short series. Or even convert some of these shows into a television format and have it be a limited thing. Sort of an adult Ms. Frizzle. I'm really excited about the initial response to this show, and I'm planning on getting it out to the world next year.
DeLa also mentions that her Xmas show with Jinkx Monsoon will not only tour nationally this year, but internationally as well.
Not mentioned but DeLa's spooky Halloween themed show "Beware the Terror of Gaylord Manor" will return to ACT in October, so Seattle audiences WILL get a chance to see her perform again this year. 
So, another queen abandons us…sigh.
At least we still have 32,434 "up and coming" queens to take their place!
(Visited 13 times, 1 visits today)