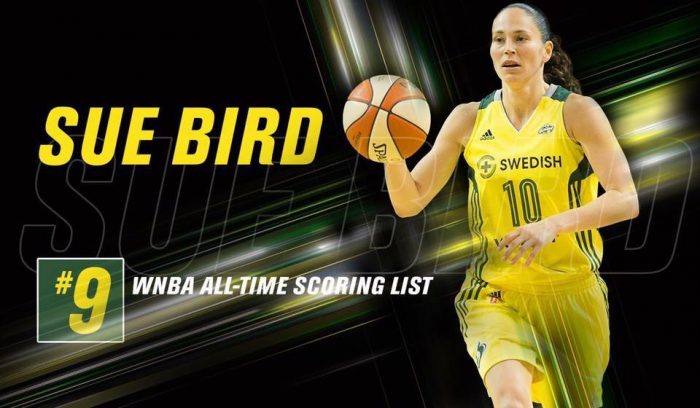 I'll be honest…I thought WNBA superstar, 15 year veteran of Seattle Storm and Olympic Gold Medal winning basketball icon SUE BIRD had come out of the closet years ago. 
But, that wasn't the case because the 36 year old star athlete just officially and publicly came out of the closet today in an exclusive interview with ESPNW writer Mechelle Voepel. Bird was apparently out to family, friends and team mates for years but had never formally made any public statement about her sexuality.
"She just has this way of expressing her opinion: She doesn't shut anybody off when she speaks. I could probably work on that a little," says Seattle Reign and U.S. national team soccer player Megan Rapinoe, who has been dating Bird since last fall.

And Bird is OK with this being known. She has been out to her family and friends for many years — telling them soon after her pro career began in Seattle after she was the WNBA's No. 1 pick in 2002 out of UConn — but she hadn't publicly confirmed it before.

"I'm gay. Megan's my girlfriend. … These aren't secrets to people who know me," Bird says. "I don't feel like I've not lived my life. I think people have this assumption that if you're not talking about it, you must be hiding it, like it's this secret. That was never the case for me."

So why talk about it now? "It's happening when it's happening because that's what feels right," Bird says. "So even though I understand there are people who think I should have done it sooner, it wasn't right for me at the time. I have to be true to that. It's my journey."
We're guessing the cheers will be deafening on Saturday, July 22nd when Bird is introduced at the 2017 WNBA All-Star Game which is being held for the first time in Seattle at Key Arena. Bird is already wildly popular in Seattle but her thousands of loyal fans, many of them also gay women, will undoubtedly signal their approval and love for her.
You can also support Equal Rights Washington by purchasing tickets to the game through website which gives them a donation to fight fro LGBTQ rights in Washington State. Go HERE to snag them and here's more info:
Join us for the hottest ticket in town – Equal Rights Washington is offering lower bowl tickets in Sections 113, 114, and 115 for just $45 (no additional service charges or fees). A portion of every ticket sold helps to support Equal Rights Washington and our work towards LGBTQ equality.

Come watch some of your favorite WNBA athletes compete, while also supporting a great organization. Purchased tickets will be available for pick-up at KeyArena Will Call just before the event.
(Visited 3 times, 1 visits today)