October 5, 2020

•
by
Michael Strangeways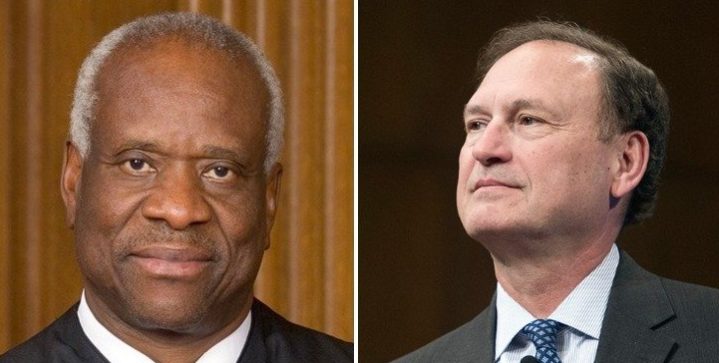 In a blatant attack on LGBTQ marriage equality, Supreme Court Justices Clarence Thomas (best known as the asshole who 'allegedly' sexually harassed Anita Hill) and Samuel Alito, known for being a conservative tool, took the opportunity today to bash the court's 2015 decision, Obergefell v. Hodges which gave same-sex couples the right to marry under the Fourteenth Amendment's guarantee to equal protection of the law.
Supreme Court Justices Clarence Thomas and Samuel Alito issued a broadside against the high court's 2015 gay marriage decision on Monday when the court declined to hear a case brought by a Kentucky county clerk who refused to issue a marriage license for same-sex couples.

Writing for himself and Alito, Thomas said that the court's decision "enables courts and governments to brand religious adherents who believe that marriage is between one man and one woman as bigots, making their religious liberty concerns that much easier to dismiss."
So basically what Thomas and Alito are saying, it that they believe giving same sex couples the right to marry infringes upon the religious beliefs of people who find same sex marriage to be immoral. In other words, it's ok to deny equal rights to a group of people because it upsets another group of people because of "God".
The LGBTQ community was quick to respond to these outrageous remarks from members of the Supreme Court. Lambda Legal CEO Kevin Jennings issued the following statement:
"The nightmare of a hostile Supreme Court majority is already here. The confirmation hearings for Judge Amy Coney Barrett haven't even started yet and Justices Thomas and Alito are already creating a laundry list of cases they want to overturn. And unsurprisingly, marriage equality is first on the chopping block. Confirming Judge Barrett would be the final puzzle piece they need in order to make it happen. 

"Overturning our right to legally marry the person we love and to protect our families would only be the beginning; none of the hard-fought rights that we have won in the courts are safe. That includes the right to marry, to work, or to be recognized as the legal parents of our children.

"But we will not be forced back into the closet. Lambda Legal has taken on tough fights before, beginning in 1973 when we had to sue for our very right to exist under New York law, and we're ready for this one, too. We have come too far in the 47 years since we were founded to turn back now." 
And, the ACLU's Chase Strangio had this to say on Twitter, expressing surprise that Supreme Court justices publicly stating their desire to overturn Obergefell v. Hodges:
"The brazenness of the rightward direction of the Court is a threat to even the most basic expectation of legal protection."

– Chase Strangio, ACLU
Now more than ever, it's so important to vote out the Republicans in the Senate, the White House and state legislatures all over the country.
(Visited 2 times, 1 visits today)
As the Editorial Director/Co-Owner, Michael Strangeways writes, edits and does about a million other jobs for Seattle Gay Scene, Puget Sound's most visited LGBTQ news, arts and entertainment website now celebrating its 14th year as a media outlet. A semi-proud Midwesterner by birth, he's lived in Seattle since 2000. He's also a film producer who would like you to check out the Jinkx Monsoon documentary, "Drag Becomes Him" now available on Amazon.com. In his spare time, he gets slightly obsessive about his love for old movies, challenging theater, "otters", vodka, chocolate, "I,Claudius", Lizzie Borden, real books made out of paper, disaster films, show tunes, Weimar era Germany, flea markets, pop surrealistic art, the sex lives of Hollywood actors both living and dead, kitties, chicken fried steak, haute couture and David Bowie. But, not necessarily in that order.