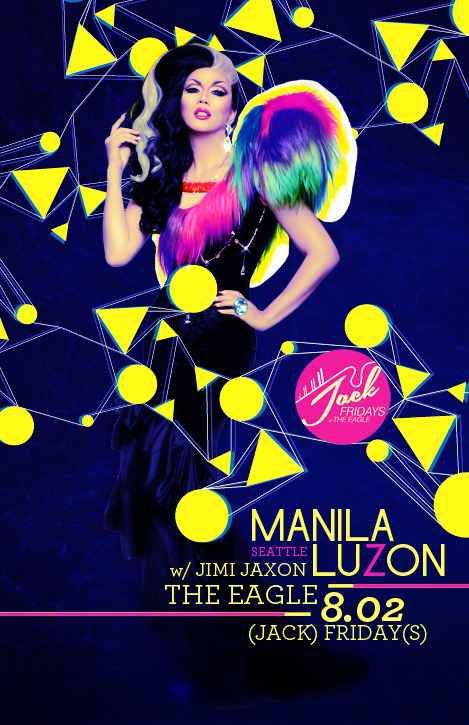 Seems like drama and tension has been high on the hill as of late, with Block Party going on and some squabbles over a place called Cue or something, haven't heard of it, plus where did summer go? Hello? Too soon! Well it's time to unwind and get the long awaited satisfaction you've been looking for tonight at The Eagle with a very special visit from Manila Luzon, one of our favorites from RuPauls Drag Race Season 3.
Jack Fridays, presented by Nark Magazine, has been providing the beats and beatings we all need after a long week at work, with some sexy fuzzy dancers, top notch tunes and special guests such as Jason Kendig, Purple Crush, Queen Mookie, Cyclist, Futurewife and more. This week is no exception with Portland femme daddy DJ Roy G Biv (recently seen turning out the crowd at Gender Blender) alongside Bottom Forty's newest member, Jimi Jaxon (Decibel).
Just what does Manila have in store for us tonight? Who knows! But rumor is, alongside Rachel Robinson, that the Nark'ster himself might blow the dust off his camera tonight and come shoot your handsome mugs, that means double the photos of you shotgunning jello shots with Manila to roll around in next week.
BE THERE!
Tonight at The Eagle
314 E. Pike Street
9pm-Late
$7-10
RSVP
(Visited 1 times, 1 visits today)