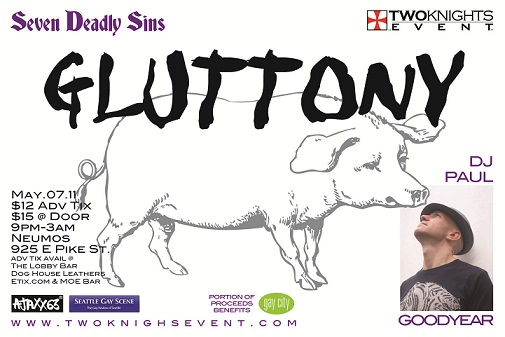 It's hard to believe we're already up to "Sin #6" in Two Knights Events long running night life series, "Seven Deadly Sins" but we are, and it's one of my personal favorite sins, "Gluttony". (Chocolate, Vodka, Arpad Miklos: I'm a glutton for all of them…) Everyone can share in the piggy fun this coming Saturday, May 7 when Gluttony comes to Neumos, 925 East Pike, starting at 9pm with very special guest DJ, Paul Goodyear, flying in from San Fran just for this sinful little event.
Tickets for Gluttony are available RIGHT now at The Lobby Bar and Doghouse Leathers, with NO fees, or at Moe Bar and Etix.com, with fees, and they're only $12 in advance and $15 at the door. Part of the proceeds will benefit Gay City Health Project so you can be a fat little pig and do some good as well…
Oh, and the par-tay doesn't end at 2am at Neumos…the Gluttony AFTER-Party, "Late Night Sin" will continue a few blocks away, starting at 2am in the wee-wee hours of Sunday morning, at The Baltic Room, 1207 Pine Street, with DJ George Delmar spinning the remaining hours of the night away until 5am. It's separately ticketed, but only $4 with a "Gluttony" wrist band, and $6 without.
And, we have to say, the irony of naming an event "Gluttony" which will be attended by hundreds of thin, muscular and fit party people amuses us greatly. But, one can be gluttonous for other things other than food, right?
Tags: DJ George Delmar, DJ Paul Goodyear, Gluttony, Late Night Sin, Neumos, Seven Deadly Sins, The Baltic Room, Two Knights Events