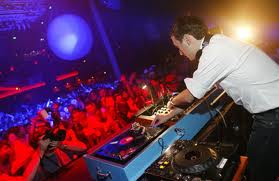 Paul Van Dyk is a Grammy nominated artist, globally acclaimed DJ and audio architect. Dyk has been ranked the World's number one DJ by DJ Magazine's "Top 100 DJ's poll" twice. His fans have nicknamed him PvD and appears at the pinnacle of every Top DJ list around the globe. You are most definitely intrigued, right? Good! He'll be at the ShowBox SoDo TONIGHT and the doors open to the public at 8pm with tickets ranging from 436 to $55 and can be purchased on the Showbox SoDo website, here.
PvD received a Grammy nomination in 2005 for Best Dance/Electronic Album for his original album Reflections – this marked the first time NARAS recognized this category. His original productions from Reflections have been synced into major motion pictures such as Into the Blue, Sisterhood of the Traveling Pants, television's Entertainment Tonight and MTV's Cribs, and international ad campaigns for Motorola, HBO, Land Rover, Ski Vail and most recently for Jeep. This year he won the International Dance Music Award (IDMA) for Best Euro DJ.
Begin the weekend on the right beat and check out this show!
Tags: Paul Van Dyk, Showbox