If you're old (like me) then there are times when you can look around and go:
"Damn…there are a lot more out queer artists (of all kinds) in the world today than even 10 years ago and certainly a buttload more than there were 20, 30 and 40 years ago…"
'Cause, there are A LOT!
Especially in music. There are dozens and dozens of LGBTQ artists out there making music and hundreds/thousands more that our strong allies, and in all genres of music.
There's also a lot of LGBTQ/allied artists popping up in Seattle over the next couple of weeks…here are a few of them but first I have to announce that British pop band YEARS & YEARS has had to cancel their Pacific NW gigs in Portland and Seattle's Showbox (set for October 30th) due to "scheduling issues"….whatever that means. (OOPS!!!! WE SCHEDULED THAT TOUR SAME TIME AS OUR COLONOSCOPY!!!! OUR BAD!!!)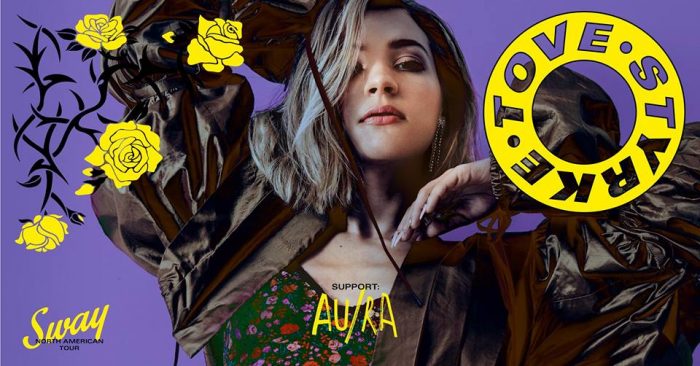 STILL happening, (that we know of…) is the return of TOVE STYRKE, the up and coming Swedish pop star who was last in Seattle opening for Lourde. Tove is performing at the Tractor Tavern in Ballard on Sunday, October 21, with opening act Au/Ra.
Since releasing her third studio album Sway in early May, Swedish singer/songwriter Tove Styrke has been busy creating visuals to accompany the eight sharp pop songs that comprise the project. The video for the title track is a welcome change from the overly simplified depictions of queer female sexuality we often see in mainstream media. The narrative is not only relatable but real, much like Styrke herself.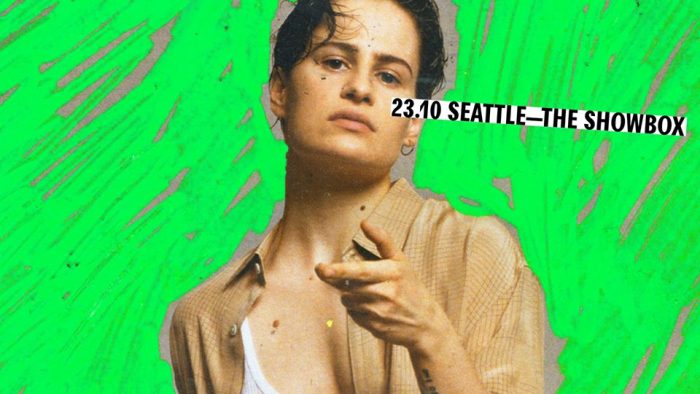 ANOTHER rising young European pop star is also coming to town next week: French multi-hyphenate Hélöise Letissier is better known to the world and fans as Christine and the Queens, and is getting the reputation for pushing boundaries:
Pushing the boundaries in both music and gender, the unique sound of Christine and the Queens pairs flamboyant pop with powerful minimalism. Her critically acclaimed debut album Chaleur Humaine was a tremendous success, selling 1.3 million units across the world. After taking France and the United Kingdom by storm, she toured the United States where she performed at the biggest festivals including Coachella and appeared on several late night TV shows such as The Tonight Show Starring Jimmy Fallon. She graced the cover of Time Magazine's « Next Generation Leaders » issue where she was proclaimed as one of the most influential young creatives in the world.
Christine And The Queens will also pay a visit to Seattle's Showbox in SoDo (NOT the Downtown one!) next Tuesday, October 23rd. Grab your tickets HERE  to see a major star in the making.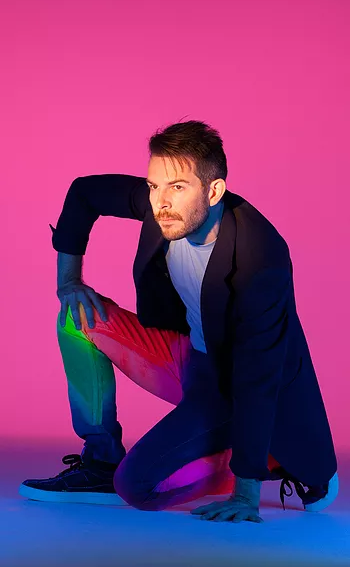 AND, finally, BRIGHT LIGHT BRIGHT LIGHT returns to Seattle for a gig at Barboza (the space under Neumos) on Friday, October 26th…just in time for Halloweenie Weekend! Get tickets HERE!
More:
Bright Light Bright Light is Welsh-born, NYC living artist Rod Thomas who makes pop music influenced heavily by cinema, with nods to the 80s and 90s, his formative decades, in its colourful, effervescent presentation.

The first unsigned artist ever to perform on Graham Norton's BBC One TV show in 2016, Rod not only made history by performing on the show with Sir Elton John, but also showed the world how much he's achieved as an independent musician.

'Choreography', his most recent album, features guest vocals by Sir Elton John, Alan Cumming and features all Scissor Sisters members, making an impressive cast for an independent release. It found success on the US Billboard Chart and UK Official Chart and had huge critical acclaim. From its success, Rod was awarded Musician of the Year at the WINQ awards 2016.

To date, he's toured the world opening for Elton John (55 shows), Erasure (27 shows), Scissor Sisters, Ellie Goulding, Hercules & Love Affair and more, as well as playing his own rapturously received gigs, numerous Pride festivals and sharing a bill with Kylie Minogue and Take That at Hyde Park.

And alongside making music, he's a celebrated DJ who runs a Time Out NY Recommended party 'Romy & Michele's Saturday Afternoon Tea Dance' based on one of his favourite films. The party travels when he tours, but is largely based in Alan Cumming's Club Cumming (who is also in the film) and Brooklyn's C'mon Everybody where it started.
Check out all these amazing artists!
Well, as many as you can afford to go see…
(Visited 1 times, 1 visits today)