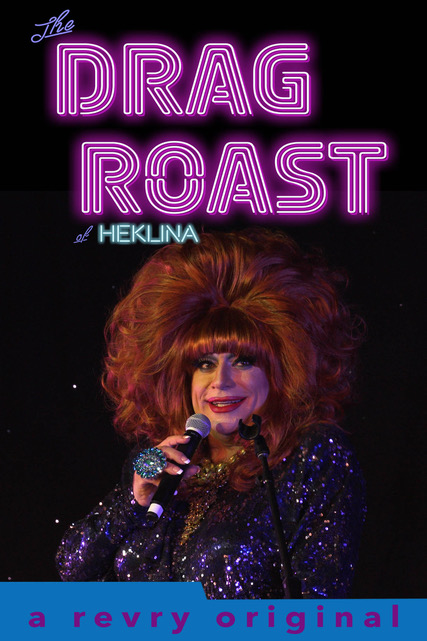 Here are MORE fun options for films to check out in the next few days at TWIST: Seattle Queer Film Festival which runs through Sunday, October 21st, including a Robert Mapplethorpe biopic starring Matt Smith from Dr. Who and The Crown, as well as a documentary about the Imperial Court System which originated in San Francisco (and you can expect most of the area Courts to be attendance at this screening….)
There's also a video document of the infamous roast of legendary San Franciscan drag diva HEKLINA, that is screening this Friday, October 19th at AMC Pacific Place, downtown Seattle at 9:15pm. It's gonna be a FOUL mouthed, VERY non-PC evening of nasty insults so if that's NOT your thing…well, don't go!! The lovely Ms Heklina will be in attendance (byotch would show up to the opening of an envelope….stuffed full of pie and cocaine!!!!) (See, what I just did there? ROASTING!!!!) and the film features a Who's Who and a What's What of drag legends including hags like Julie Brown (the one who is NOT Downtown), Peaches Christ, Sister Roma, and RPDR stars like Bob the Drag Queen, Alaska Thunderfuck and Jinkx Monsoon.
Snag tickets for the Heklina roast HERE!!!!
NOTE: I'm asking around to see if this screening has an after party (I mean, it's a drag queen film!) but I'm not finding any so far!
Mo' poo:
TOUR QUEER AMERICA WITHOUT LEAVING SEATTLE!
MAPPLETHORPE
Friday, October 19, 2018 | 6:45 PM | AMC PACIFIC PLACE
Robert Mapplethorpe's photos of New York's underground gay male BDSM scene, male nudes, female bodybuilders, and bound-up penises helped fuel the notorious culture wars of the 1980s and 1990s.
TICKETS
JULES OF LIGHT AND DARK
Saturday, October 20, 2018 | 7:00 PM | AMC PACIFIC PLACE
After a rave and a devastating car accident, Maya's life is forever changed when she meets Freddy, an older, closeted gay man, and an unlikely friendship is formed through this stranger's simple
act of kindness. 
TICKETS
50 YEARS OF FABULOUS
Saturday, October 20, 2018 | 9:30 PM | AMC PACIFIC PLACE
The Imperial Council, founded in San Francisco in 1965, is one of the oldest, most influential LGBTQ organizations in the world, played a pivotal role in advocating for LGBTQ rights and shaping gay culture. 
TICKETS
(Visited 1 times, 1 visits today)