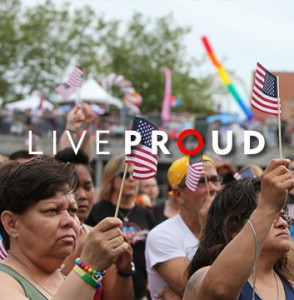 LGBTQ Pride is certainly a colorful, noisy, vibrant celebration but not everyone grooves to the more flamboyant aspects of the season. Not everyone likes seeing drag queens in daytime, or lesbians on motorcycles, or outdoor beer gardens with shirtless drunk hunks trying desperately to get laid, or excessive amounts of dj disco music, vodka based libations and Boe Odyssey twirling his scarves and displaying his lack of under garments…happily, for folks who prefer it, there are quieter, more spiritual, more artistic and more family friendly options to celebrate our pride and diversity.
We'll start with Celebrations of the Spirit: Emerald City Metropolitan Community Church Seattle, and All Pilgrims Christian Church are teaming up for this year's Pride All-Faith Worship Service,  to be held at All Pilgrims at 500 Broadway East on Saturday, June 25 at 1pm. Rev. Diane Darling, pastor of Alki United Church of Christ, will be the speaker for the service with musical guests, Christina Brewer, a finalist in the 2011 Seattle Out and Proud Idol competition, and a community choir will perform "Seasons of Love" from the musical Rent. Those who wish to participate in the choir are asked to rehearse at 11:00 AM at All Pilgrims Church on Saturday, June 25. The choir and worship music will be under the direction of Dr. Gary Ballou a long term member of the Seattle Gay Men's Chorus. Mark Cooley, pianist and organist for Des Moines United Methodist Church and Emerald City MCC will be the pianist and organist for the service. Lambert House, the sanctuary for LGBTQ youth will be the community recipient for funds raised at the service. For more information contact Rev. Ray Neal, pastor, Emerald City Metropolitan Community Church Seattle, revrayneal@gmail.com or call him at 206-325-2421.
For our Jewish friends, join Kolenu and the Seattle Jewish community for Pride Shabbat 2011. This year's event will be held during on Friday, June 24 at 6pm at Temple de Hirsch Sinai, 1511 East Pike on Capitol Hill.
Pride Shabbat 2011 is open to the community and is a celebration of Lesbian, Gay, Bisexual, Transgender and Questioning Jews, friends, allies and families.

The evening will start with pre-service appetizers at 5:45 pm with the service to follow at Temple De Hirsch Sinai in Seattle. Immediately following the service, participants are invited to attend the oneg, a post-service celebration, with light snacks and desserts.
For more family friendly fun, there's the big official Pride Picnic hosted by Seattle Out and Proud on Sunday, June 19 in Volunteer Park starting at 11am and going to 4pm with…
…proceeds going to Food LifeLine. There will be live entertainment and games for the kids so bring the whole family. There will be a $1 per person charge and includes hamburgers, hot dogs, veggie burgers, fresh fruit, salads and beverages.

Groovin music from MOVIN 92.5
Box-car Derby
Live Entertainment
Face painting provided by the YMCA of Greater Seattle
Clowns Unlimited will provide juggling, face painting and balloon twisters
$1 per person proceeds donated to Food LifeLine
The annual event is presented by BECU with food supplied by SPUD.com.
On an irritating note, the revolting Westboro Baptist Church/Fred Phelps Clan have announced they will be picketing the Picnic. The WBC is infamous for their public picketing of LGBTQ events, including the funerals of AIDS journalist Randy Shilts (San Francisco counter protesters pelted them with garbage and rocks) and murder victim Matthew Shepard. The group, sadly from my former residence of Topeka, Kansas, plan to bring their publicity seeking circus of hate to Seattle for the Pride Picnic, but a Counter Protest Group has been organized on Facebook to overwhelm the ignorant douche bags. Organizer Ben "OutSpoken" Crowther encourages participants to:
"Bring fun signs! Like "God Hates Signs", "If Gods Hates Gays, Why Did He Make Us So Cute?"

Keep it clever and classy!

Let's give them a warm and gay Seattle welcome!
SOaP is also producing two events at the Hard Rock Cafe; a Pin Launch on Wednesday, June 22 and the official Pride Brunch on Pride Day itself, Sunday, June 26 before the Parade. The SOaP site states "More details coming soon" and the Hard Rock Cafe site has ZERO information on these events so stay tuned for (hopefully) more info.
For folks who like to eat, One Degree and PrideFest are putting on the 4th annual PrideFEAST on Thursday, June 23. Similar in nature to "Dine Out for Life", area restaurants participating will donate up to 20% of your bill to this year's non-profit beneficiaries, Gay City Health Project and Seattle Counseling Services. Restaurants scheduled to participate include Julia's on Broadway, Tidbit, Barrio, The Tin Table and Bourgeoisie Brunches.
And, for Capitol Hill Pride fans, there's the big Saturday, June 25 Festival on Broadway with three stages of entertainment, numerous booths, and a Doggie Drag Queen contest. The entertainment this year includes hostess Mark "Mom" Finley, the band Noddy, fashion shows, tons of local entertainers and three stars from RuPaul's Drag Race including Shannel, Jessica Wild and India Ferrah. For more information, check out their poorly Spell Checked website and try not to giggle that sponsor/spear header George Bakan's name is misspelled three different ways on the page including on the official poster for the event…
And, in other news that is both awesome and awkward, PrideFest announced that TARGET is sponsoring a "Family & Kid" space at Sunday's PrideFest at Seattle Center:
Seattle PrideFest is proud to announce Target as a major sponsor of our 2011 festival. They will be providing a space for kids of all ages with popsicles, a photo booth, and the crowning jewel of the family area, a ferris wheel! Thanks to Target for this great addition to PrideFest, and for your support of our community.
That's nice of Target to sponsor this, but it would be even nicer if they'd stop dicking the LGBTQ community around with their moronic donations to queer phobic politicians and then hedging their reaction to the outrage….and fire the dickhead CEO of Target, Gregg Steinhafel but that's a topic for another post…
Tags: All Pilgrims Christian Church, Capitol Hill Pride, Emerald City MCC, Kolenu, Pride Picnic, Pride Shabbat, PrideFeast, PrideFest 2011, Seattle Out and Proud, Westboro Baptist Church