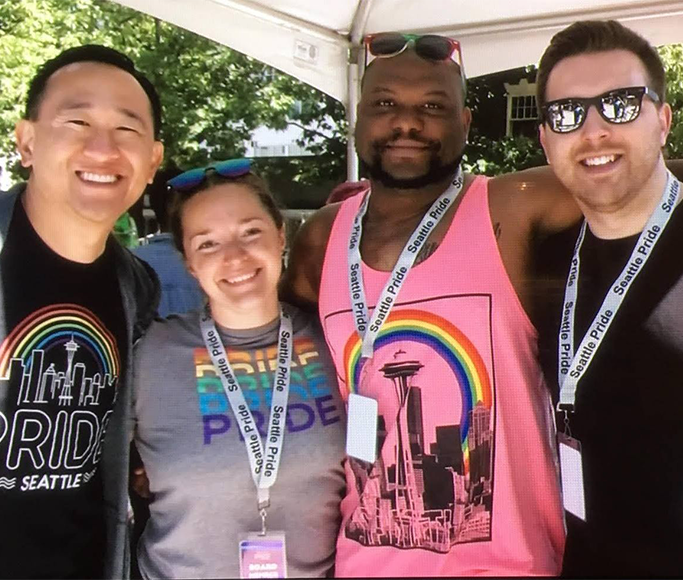 Do you feel like you have something to offer the community? Do you have skills and solid background in networking with all kinds of communities? Would you like to make an impact on our LGBTQ community and improve how we celebrate LGBTQ Pride in Seattle?
If you can answer yes to any and all of these questions, then I have the gig for you….Seattle Out and Proud, aka "Seattle Pride", the producers of the annual Pride Parade and sundry other events, is looking for new Board Members to enrich and improve their organization!
(Hopefully, they find some people who think it's high time the various Pride producing groups in Seattle ban together into one group instead of the current silly system of all these separate orgs all vying for the same resources!!! Only in Seattle, folks!)
Here's the press release from Seattle Pride detailing what they're looking for:
While many people know Seattle Pride as the organization which produces the annual Seattle Pride Parade, it is also a year-round LGBTQIA+ advocacy and grant-funding organization — and it is seeking candidates to serve on its volunteer board of directors for the coming year.
"While the LGBTQIA+ community has made great strides in recent years, we still have a long road ahead of us and Seattle Pride has an important role to play," says Kevin Wang, MD, a Seattle Pride board member who is leading board recruitment efforts. "If you are looking to make an impact in our community, planning amazing events, advocating for equal human rights, and putting your pride into action, we need you."
Seattle Pride seeks candidates who provide a wide array of professional and lived expertise in everything from fundraising and program development to activism and strategic planning — and is committed to being especially intentional in recruiting board members who reflect the diversity of greater Seattle's LGBTQIA+ community – including those for which English is not their primary language. Black, Brown, Indigenous, people with disabilities, trans and non-binary, and gender expansive folks are especially encouraged to apply.
Interested candidates and those interested in receiving additional information, are encouraged to email Seattle Pride with their name, email address and phone number at board.recruitment@seattlepride.org.
About Seattle Pride
Seattle Pride is the (501(c)4) not-for-profit organization which produces the Seattle Pride Parade, Seattle Pride in the Park and other pride-related events and promotions, as well as providing grants and sponsorship support to community-based LGBTQIA+ serving organizations statewide, and year-round advocacy in support of diversity, inclusivity and equal human rights for all.
About Seattle Out & Proud Foundation
Seattle Pride's Seattle Out & Proud Foundation is a (501(c)3) non-profit foundation which exists to educate the public about the LGBTQIA+ community and the rights of its members; to eliminate discrimination against; and to further the civil rights of members of the LGBTQIA+ community by promoting the arts and supporting leadership development.
To learn more about Seattle Pride and Pride-related events, grants and advocacy, visit www.SeattlePride.org
(Visited 2 times, 1 visits today)