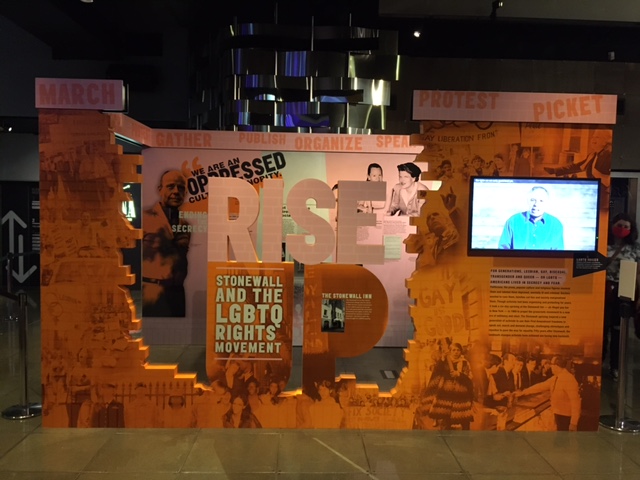 MoPop, the Museum of Pop Culture is always kinda gay…I mean, gay folks largely invented CULTURE in general and we certainly put the POP into it. There's always something over the top and campy to see at MoPop…including the currently running Disney Costume exhibit which is chock full of dreamy fairy princess gowns being a very obvious example.
But, this summer they have a hyper specific traveling exhibit to gay up everyone's lives with Rise Up: Stonewall and the LGBTQ Rights Movement opened up over Pride Weekend last month and features an informative and fun walk through of recent LGBTQ history. The exhibit utilizes photos, videos, blow ups of archival print media and other documents as well as actual pieces of wardrobe and costumes.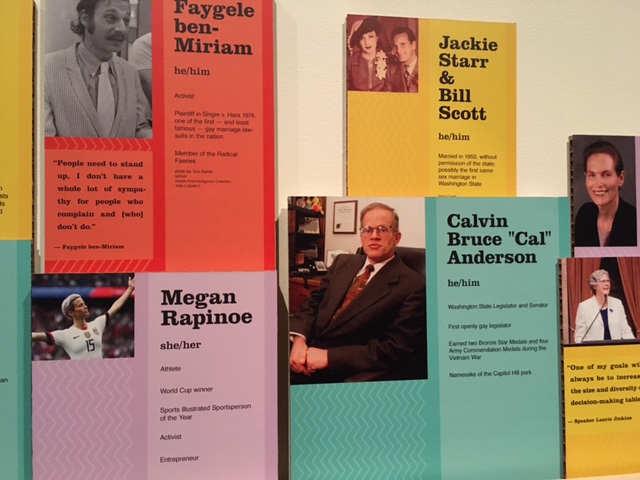 For older LGBTQ people who know their history, there's probably not a lot you didn't already know but it's always fun to "brush up". And, for newer/younger LGBTQ folks and allies, it's a great way to get a general overview of a LOT of queer history, both good, bad and over exposed. (The exhibit was created a few years ago and frankly suffers a tad from too much Ellen de Generes and WAAAAAAAY too much coverage of a certain Ms Jenner) but…it's tough to curate these sorts of exhibits and overall, it's a useful and entertaining look at over 60 years of LGBTQ culture.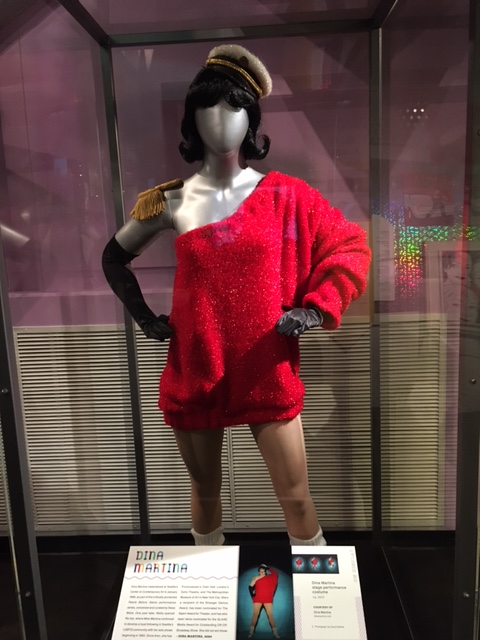 The last part of the exhibit also features local content including costumes from local icons like Dina Martina, Aleksa Manila and pioneering gay country singer Patrick Haggerty and images of local LGBTQ people who have made a difference in the Seattle area. There's a few glaring omissions in this part of the show, including no mention of Seattle Gay News editor/publisher George Bakan who passed away last year or even Ric Weiland the Microsoft executive who left millions of dollars to LGBTQ non-profits. A little more research on their part by talking to local queer elders MIGHT have been wise.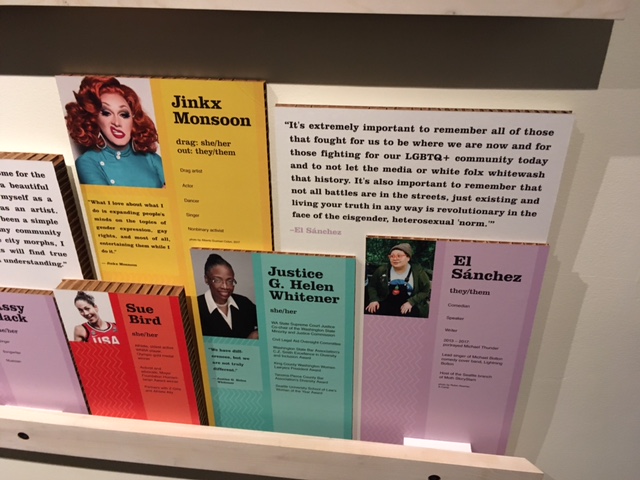 Still. It's worth checking out if you're going to visit MoPop in the next few months or if you're needing an activity to entertain out of town visitors.
AND, for local gay teens, there's also a week long drag summer camp coming up. More info below!
Have you seen our new exhibition 
Rise Up: Stonewall and the LGBTQ Rights Movement
? If not, you HAVE to visit! But either way, we know you'll want to check out some virtual and in-person programs we have coming up that help continue the Pride celebration into the rest of the summer:   
Rise Up!
 Icons Panel (special "director's cut" extended rebroadcast) WEDNESDAY, JULY 21 | 5:00PM-6:00PM PT (VIRTUAL) Hear from a panel of queer icons in conversation about their own activism and their participation in the civil rights fights of our time. Moderator Matt Baume will share a few iconic objects from 
Rise Up
 as inspiration for panelists Isabella L. Price, Devlyn Camp, and Kristin Russo to discuss historic moments in queer history. Produced in collaboration with Seattle Pride. 
Register ▸
 Drag-tastic Summer Camp: The Art of Drag (Grades 9-12) MONDAY, JULY 26-FRIDAY, JULY 30 | 8:45AM-4:00PM (IN-PERSON) Explore self-expression in MoPOP's week-long, drag-tastic summer camp! Led by Seattle performer Joshua Hancock, you'll investigate drag history and work together with local artists to create your own personas. Youth of all gender expressions and identities are welcome at this drag beginner's camp. 
Register ▸
(Visited 3 times, 1 visits today)