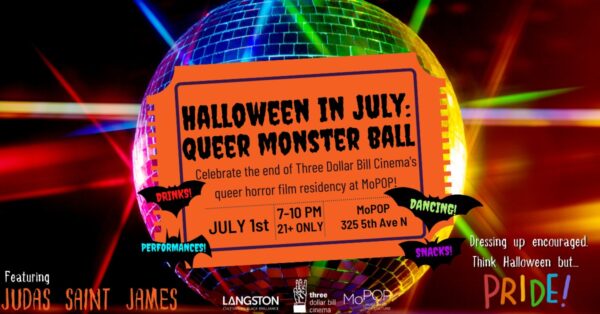 Looking ahead for things to do NEXT weekend?
Do you think you'll be sufficiently recovered from THIS weekend? Or, too broke to go out?
Fortunately, Three Dollar Bill Cinema and the Museum of Pop Culture have a solution…they're throwing a QUEER MONSTER BALL on Friday, July 1st! It's to celebrate the end of Three Dollar Bill curating their movie screenings for the last few weeks. AND, you're encouraged to wear costumes…it's HALLOWEEN IN JULY!
It's happening from 7pm to 10pm at MoPop….sadly, it's a 21+ event. And, apparently, it's FREE, according to the Facebook invite. (NOTE: we double checked…admission into MoPop is FREE after 7pm!!!!)
Here's all the info provided by Three Dollar Bill Cinema:
We're so grateful to have curated and screened a queer horror short film program for the past 3 months at MoPOP's Sound & Vision Theater. Thank you to all our donors and supporters that make our programming possible. To commemorate the end of our MoPOP residency on June 30th and pass the baton to Langston Seattle, you're invited to QUEER MONSTER BALL!


Celebrate Halloween in July with us at MoPOP on July 1st! Join us from 7-10 PM for a FREE night of drinks, snacks, fun, and dancing. Don't forget to dress up in your queer monster finery. Think Halloween but Pride!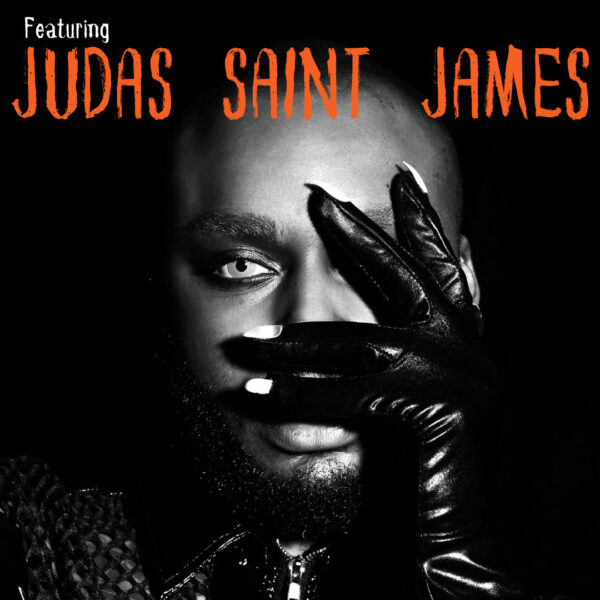 Featuring performances by Seattle's current reigning Queer Monarch, Judas Saint James!

Judas Saint James is your new favorite queer-coded villain. Blending the worlds of rock n roll, kink, theater, and nostalgia, they aim to show you the beauty of alternative Black culture and the pleasures of nonbinary sensuality.
With a deadly gaze and sinister smile, they are sure to leave you salivating, questioning, and wanting more.
Also Note that MoPop has RULES about costumes!!!!
If you're planning on dressing up for this event (which you should!!!) please read MoPOP's costume guidelines below to make sure you're good to go:
COSTUMES· Costumes must fit through a single doorway (less than 85.5-inches tall X 35-inches wide). · Costumes cannot include: pyrotechnics, fire, smoke, steam, fog, helium balloons, et cetera and are subject to MoPOP building policies.· No nudity, lewd or offensive costumes. This is inclusive but not limited to gender, sexual orientation, race, ethnicity, religion, culture or disability.· No full or partial body paint in place of clothing. · Photo identification may be required for guests with face concealing paint, prosthetics, or masks.

COSTUME WEAPONS· Functional weapons are strictly prohibited.· Costume weapons must be inspected at the security station located at the event's entrance and must conform to state and federal law.· Projectile costume weapons must be rendered inoperable.· Costume swords must be tied to the costume so that they cannot be drawn.· Costume weapons will be tagged with a wristband after security's inspection.· Individuals not willing to have their costume weapons inspected or tagged, or are not willing to comply with the above, will be asked to leave the premises.
(Visited 21 times, 1 visits today)