July 5, 2011

•
by
Seattle Gay Scene
Save me! I don't know if these dudes are lifeguards or amateur swimmers (not professional…too hairy) but I'm willing to let them save me from a fate worse than death…which in my case is a damned summer cold. So apologies for the paucity of posts the last few days…it's hard to type and blow your nose at the same time. Hopefully, we'll be back at full capacity in the next day or two…we have tons of stuff to talk about, including FOUR huge events going on this summer we're putting on, including our HUGE Seattle Gay Scene Anniversary Party at Lobby Bar on Thursday, July 14 with special guests Sylvia O'Stayformore, Jinkx Monsoon and DJ's Skiddle and George Delmar. Mark your calendars for that event and stay tuned for more info about it, coming up.
Happy Summertime Fun!
(Visited 3 times, 1 visits today)
Related Posts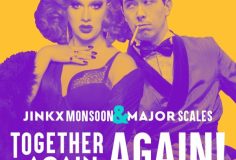 *Dragolicious • *Seattle Theaterland • *SGS Recommends • #Theater and Stage • Arts & Entertainment • Arts News • Cabaret • Comedy • Drag • Drag O'Tainment • Jinkx Monsoon Fan Appreciation Society • Mark Your Calendars • News • Stage
Seattle Rep announced their plans for the upcoming 2023/2024 season
...