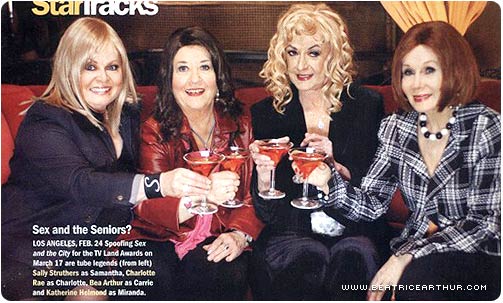 Deadline Hollywood has the poo.
Producer/Writer/Director Michael Patrick King, who guided the amazingly good and beloved HBO television series "Sex & the City" and followed that up with two UBER shitty, but successful films based on the series, has announced he is NOT involved with plans to film any "SATC" prequel projects. According to the report, King was asked about:
a Sex and the City prequel movie, which would follow Carrie, Samantha, Miranda and Charlotte through their teens into their twenties and would be based on author Candace Bushnell's novels The Carrie Diaries and Summer and the City.
Mr. King firmly replied he wasn't involved…and, we say "Bless the Deity of Your Choice" because while we LOVED the series, we really hated the two HORRIBLE films and we think it's time to give the SATC franchise a rest. We're guessing they would cast new actresses to play the MUCH younger versions of Carrie, Miranda, Charlotte and Samantha (the sad flashbacks to the characters in the last film was an embarrassing abomination and horrible to behold) but still…it's time to let it rest. We need to be content with watching the original series over and over again in the privacy of our homes with a chilled cocktail glass in one hand and canape in the other. Let's not flail every inch of flesh off the dead horse known as SATC…