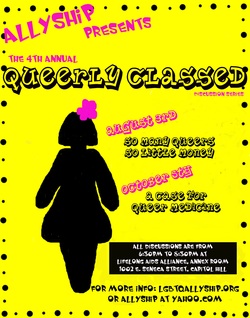 So many things we post about on here involve booze and drag queens, (and we love both) and it's nice to occasionally write about events that involve neither for folks who don't/can't drink or prefer not to hang around men wearing panty hose and eyeliner while lip-syncing to Donna Summer songs.
You got a couple of options today…The Seattle branch of Fukits is having a little get together at Gay City to stuff safe sex condom kits from 6pm to 9pm. For those of you not aware, SeaFukits is an organization that promotes HEALTHY but SEXY safe sex with very explicit details and information on how to have RAUNCHY but safe fun with your bed buddy. Please check out their website, but yes, it is NOT SAFE for WORK! AND, please pop into Gay City this evening to stuff some kits…it's a fun way to help out AND make some new friends.
Also today, Allyship LGBTQ presents another in their continuing series of Queerly Classed workshop discussions and this session is called, "So Many Queers So Little Money" and focuses on all things financial for members of the LGBTQ community. Here's the skinny on the event:
This panel will address the challenges for the LGBTQ community in these hard economic times and present some possible solutions.

You will hear Breanna Anderson from Ingersoll Center, Lucien Justice a former trans male sex worker, Kassandra Gonzales from Casa Latina and Cathy Maphail from United Food and Commercial Workers local 21 (representing grocery employees).

August 3rd, Wednesday, 6:30pm – 8:30pm
Lifelong AIDS Alliance, Annex Room, 1002 E. Seneca
Suggested donation $5 but no one turned away
Many of us are poor and likely to be that way for awhile, so it might be a good panel to check out…that way you could AFFORD to go out and buy booze and stick tips down drag queen's garter belts.
(Visited 1 times, 1 visits today)