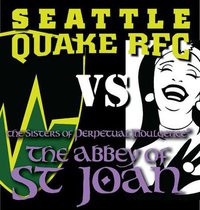 Sigh. Normally, we'd be happy to promote "Jockstraps & Glitter", the second annual charity kickball game between the Sisters of Perpetual Indulgence-Abbey of St. Joan and the Seattle Quake Rugby team which is happening this coming Saturday, August 6 at Miller Playfield (19th Avenue East and East Thomas) at 5pm. It's a great event which raises money for the Sister's Charity Grant Fund that disperses THOUSANDS of dollars every year to local non-profits serving the community and it's hella fun. Who doesn't enjoy jocks and drag queen nuns playing kickball under the summer sun? It's awesome.
But, we're guessing it's going to be a little teary at the event this year due to the sudden death last week of Sister Karma Za Betch one of the primary organizers of the event and it's her name on the Facebook invite. Sister Karma would want us all to COME to the game and have a great time and donate some money and wouldn't want us to be sad, but we think you'd better bring a hankie or two to the game nonetheless. It's going to be a little emotional.
So bring your hankies and your cash and some joy in your heart to "Jockstraps & Glitter" this Saturday…and, while there's no booze allowed in city parks, we're all gonna raise a non-alcoholic toast to Sister Karma.
Can we get an Amen up in there?
Tags: Jockstraps and Glitter, Seattle Quake Rugby, Sister Karma Za Betch, The Sisters of Perpetual Indulgence-Abbey of St. Joan