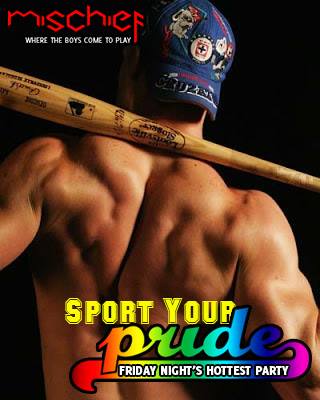 We're thrilled all the hot jock types have options to celebrate Pride in Seattle this year. Doesn't matter if it's baseball, rugby, swimming, or pole dancing, the athletically inclined, well muscled men folks of Seattle have places to go this Friday,  June 27.
The big party option is MISCHIEF at Re-bar, the 4th Friday of the month dance sexplosion that naturally has a Very Special Pride Edition on tap. It's a "SPORT YOUR PRIDE" theme for this month's party; come dressed in any team uniform, sports attire, or just wear a rainbow of Pride colors and you'll get discounts on EVERYTHING!!!!
You also get Mischief's house dj, Bret Law plus Special Guest DJ BLACKLOW from LA…
>> DJ BLACKLOW – (http://djblacklow.podomatic.com/)
One of Southern California's hottest DJ's brings his highly sought after beats to Seattle. Current residencies include; XPosed Pool Party at the New Tropicana in Las Vegas, Stripper Circus, Size Sundays at Here Lounge, and Jeffrey Sanker's Fresh Fridays.

>> DJ Bret Law – (www.DJBretLaw.com)
Hot off his recent gigs at Gay Days Orlando and Los Angeles Pride, Sinfinite Events' resident mixmaster is back with another pumpin' set to keep you on the dance floor all night long!

Featuring:

>>CHERRY SUR BETE – (Haus of Lady Dude)

>>THE MEN OF MISCHIEF – Seattle's HOTTEST troop of gogo dancers will be on hand working the stage, the bar, the dance floor, and more!

>>JELLO SHOTS FROM SEATTLE QUAKE RUGBY – The Northwest's first primarily gay men's rugby team committed to bringing one of the world's most popular games to new players who may not otherwise have considered playing, The Seattle Quake will be on hand servin' up JELLO SHOTS to the masses! (www.QuakeRugby.org)

>>LOTS OF FREE SWAG FROM: Lovers Package, Spunk Lube, and Steamworks Baths

We are pleased to offer discounted admission for HORNET APP users! Just show us your Hornet profile at the door! Download the Hornet – Gay Social Network application for your iPhone or Android device atwww.GetHornet.com

Mischief is OPEN LATE til 3AM….but when the beats stop the MISCHIEF continues at Steamworks Seattle for the official Mischief After Party with DJ Hungry. Mischief attendees and Hornet App users get $5 off admission!

Re-bar Seattle – 1114 Howell St, Seattle – Friday May 23, 2014 – Doors at 10PM – Open til 3AM – 21+ w/ Valid ID –

$8 Cover Before 11pm – $10 After – Reduced Cover For Hornet App Users –> www.GetHornet.com
But, wait! That's not all!
You should PRE-FUNC before MISCHIEF at WORLD OF BEER up at 500 E Pine St for the "SPORT YOUR PRIDE PRE-FUNK" You can win tickets to see BIANCA DEL RIO!!!
Join us from 7pm-10pm at WORLD OF BEER on Capitol Hill for $4 Wells and $1 Off Drafts – Live Music – RAFFLE PRIZES (benefiting Seattle Quake Rugby)
-A Party for your Team or Group of Friends at World of Beer
-Tickets to see Bianca Del Rio @ Baltic Room July 24th
-Tickets to "X" Pride Dance Party @ Neumos June 28th
-Sporting Event Tickets
and other AWESOME prizes!

DRINK SPECIALS
-$4 Wells
-$1 Off Drafts

AND MORE!  Attendees get Discount Admission Wristbands for Mischief @ Re-bar
HOPEFULLY, The Hot Men of Quake Rugby don't overextend themselves staying up all night 'cause they got a charity rugby match the next day. The 5th Annual PROM DRESS RUGBY MATCH is at 2pm at Cal Anderson Park….
Have you ever gone to a rugby match and thought to yourself: "This would really be better if there were more sequins and tailcoats involved?"

Well then join the Seattle Quake men's and the OPSB Breakers women's rugby team as they get together to play a semi-formal game of Prom Dress Rugby, hosted once again by the fabulous and talented Aleksa Manila!

We are excited to be partnering with the Northwest Network (nwnetwork.org/)this year, an organization that works to end violence and abuse by building loving and equitable relationships in the LGBTQ+ community and across the country. 

Spectators will be able to buy points for their favorite team, donate to the rugger of their choice to pick a prom king and queen, and more! 
Is that jocky enough for you?
Tags: Events For Jocks, Events For Men, Mischief, Re-bar, Seattle Quake Rugby, sgsapp, Sport Your Mischief, Sport Your Pride Pre Funk, World of Beer