If you like jocks and celebrating Pride in Seattle, you have options this week with three professional sports teams offering up Pride Nights for local LGBTQ fans plus the return of the always fun PROM DRESS RUGBY on Saturday at Cal Anderson Park.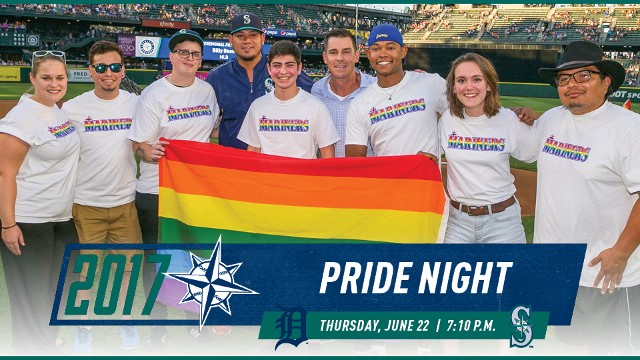 SEATTLE MARINERS PRIDE NIGHT
Seattle Mariners vs. Detroit Tigers
Thursday, June 22, 2017
7:00pm
This event is dedicated to celebrating Seattle's LGBTQ community. Fans can follow the link below to purchase a specially-priced ticket that includes a Mariners Pride Night Hat. Plus, Seattle singer/songwriter Mary Lambert will be on hand to perform the National Anthem.
Be sure to arrive early and join us in the Outside Corner near Section 330 for a pregame event.
Redeem your hat (while supplies last) by bringing your ticket to the Outside Corner near Section 330 before the end of the 4th inning.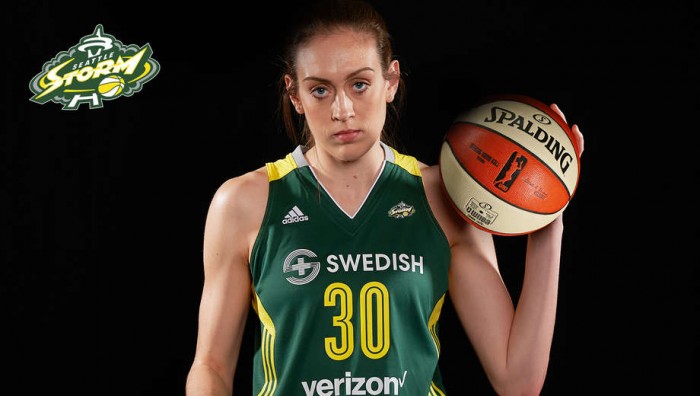 SEATTLE STORM PRIDE NIGHT
Seattle Storm vs. Phoenix Mercury
Friday, June 23, 2017
7:00pm
Seattle can feel it – that building of groundswell right before greatness; that contagious energy and momentum that turns fans into fanatics.
The pieces are coming together for the Seattle Storm's next run at the championship, and you won't want to miss this journey. All the elements are there: hard work, talent, competitiveness, intelligence, strength, and will.
Breanna Stewart, Jewell Loyd, legend Sue Bird, and the Seattle Storm face off against Diana Taurasi, Brittney Griner, and the Phoenix Mercury for the Pride Kick Off game Friday, June 23rd at 7pm.
Purchase discounted lower-bowl tickets from Equal Rights Washington for only $20 (no fees). A portion of every ticket sold will help support ERW's continued work towards equality for all LGBTQ Washingtonians. Purchased tickets will be available for pick-up at will call just before the event.

PROM DRESS RUGBY MATCH
Saturday, June 24
2:00pm
Bobby Morris Playfield (Cal Anderson Park)
FREE
Seattle Quake RFC and the Emerald City Mudhens RFC are extremely excited to invite the Community to our 8th Annual "Prom Dress Rugby" Exhibition Match, taking place June 24th at Bobby Morris Playfield (Cal Anderson Park) in Seattle's Capitol Hill neighborhood. We're looking at a 2:00p kickoff on Saturday, 24 June 2017 (Pride Weekend).
We are honored to welcome back Seattle Drag Personality, the incomparable Aleksa Manila as our announcer and referee; she will be working the crowd to sell penalties, changes of possession, tries (similar to a touchdown) and everyone's favorite, COSTUME CHANGES! Proceeds from this year's Prom Dress Rugby will go to benefit Gay City! Seattle's LGBTQ Center promotes wellness in LGBTQ communities by providing health services, connecting people to resources, fostering arts, and building community. Gay City is the leading provider of HIV and STI testing in King County.
Why "Prom Dress Rugby"? Because the members of the Emerald City Mudhens will be suiting up and Seattle Quake RFC will be wearing dresses. Due to the limitations – and the overall fun nature of this exhibition match, we will not be playing full tackle rugby, but will be playing "light wrap" or "team tackle". Rugby League rather than Rugby Union.
This is a FREE EVENT, open to the public. Please encourage your friends and family to attend, and support a great cause this Pride weekend.
Be sure to join us at the Cuff after the game for post-match shenanigans!
Proceeds from this year's Prom Dress Rugby will go to benefit Gay City! 
SEATTLE REIGN PRIDE NIGHT
Seattle Reign vs. Kansas City FC
Saturday, June 24
7:00pm
Via Gay City press release: Seattle Reign FC, one of ten teams in the National Women's Soccer League (NWSL), is hosting a Pride Night to celebrate members of the LGBTQ. Come out for some great soccer and to
Friends of Gay City get 20% off of match tickets! Just click the link below or enter the discount code at checkout!
Discount code: PRIDE2017
(Visited 2 times, 1 visits today)