The Italian and I just got back from a wonderful weekend at the beach! We got this wonderful deal on a beach house down there and we were able to invite his sister and her girl friend. We spent a wonderful time exploring the small little charming towns on the Oregon Coast. The Italian even made me a birthday cake from scratch! It was really wonderful. We found some really great treasures and new blog material. As some of you know I'm a big collector. One of my collections is vintage radios. We found this charming 1960's salmon colored Candle brand transistor radio. It is so cute and when I saw it, this radio reminded me of summer colors and wonderful sounds of AM radio.
We also found a really great recipe book from Mrs. Olsen of Folgers coffee! It was a give away with every 12lb coffee purchase.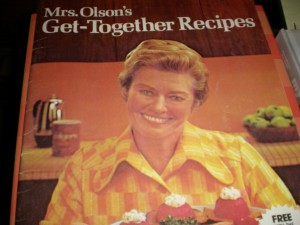 ""Mrs. Olson," a Swedish neighbor/cook to many of the campaign's other characters, who invariably recommended a cup of Folgers coffee as a solution to all of their problems. She also invariably reminded her listeners that Folgers was "mountain grown, the richest kind of coffee." Actress Virginia Christine portrayed Mrs. Olson in television advertisements from 1965 to 1986."
This recipe book features some really great Swedish recipes. It also features some recipes that go well with coffee. It is a great find we will feature some of these recipes very soon.
Saturday night is Saturday night Beaver at Bacon Strip
Sylvia O'Stayformore, local performer and founder of the outrageous Bacon Strip The Big Gay Variety Show, is heating up the summer season with a little furry disco! Come down to Rebar for some Saturday Night Beaver and shake your grove thing. The cast of Bacon Strip will once again explode on stage at Rebar on August 6th, 2011, doors at 10:00pm • show at10:30 p.m. (1114 Howell Street). Sylvia O'Stayformore and the cast of Baconstrip hope to see you out!  www.facebook.com/baconstripseattle 
Bacon Strip is sponsored by the Seattle Gay Scene
Tags: Bacon Strip, Mrs. Olson, Rebar, Sylvia O'Stayformore