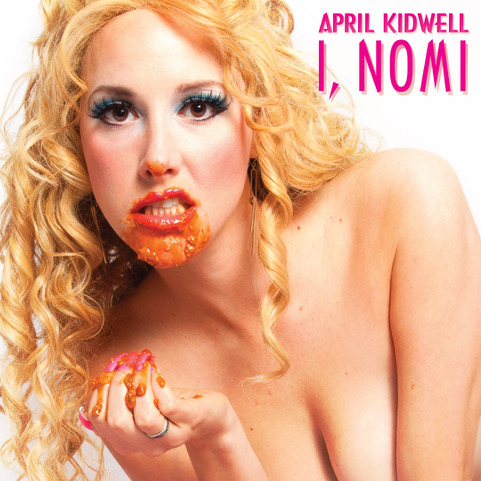 It's been a hit at off Broadway type venues all over the country and it's coming to Seattle…it's April Kidwell's crazed mash up of two beloved movies, the cinematic mess known as SHOWGIRLS and the award worthy Tonya Harding biopic I, TONYA in one delirious concoction she calls I, NOMI.
Kidwell writes and stars in her tribute to the insanely crazed heroine Nomi Malone, the lead character in Paul Verhoeven's over the top 1995 film Showgirls and originally played by TV's Saved By The Bell alumni Elizabeth Berkley. Nomi was a ruthless wannabe showgirl from the wrong side of the tracks who shows up in Vegas to become a star…doing whatever it takes to take down the Strip's leading diva Crystal Conners played in the film by an equally over the top Gina Gershon.
(And, we can't forget Twin Peaks star Kyle MacLachlan as the love interest and the truly trashy pool sex scene he does with Nomi….)
The movie is….crackers. A camp classic with ludicrous situations, characters and dialogue and of course it has become beloved for being so good at being "bad".  April Kidwell's decision to star Nomi in her own origin star and frame it like I, Tonya works on so many levels. It's been hailed from coast to coast and now I, Nomi will be bopping into Seattle for a 3 show run at our favorite cabaret venue in town, Re-bar from May 30th to June 1st. Snag tickets HERE!
Critically acclaimed actress April Kidwell premieres her outrageous musical comedy mashup of Showgirls and I, Tonya in Seattle May 30 – June 1st at Rebar.

Get up close and way too personal with one of cinema's most enigmatic female antiheroes in the hilarious theatrical event I, NOMI. Written and performed by Off Broadway sensation April Kidwell, I, NOMI is a raunchy and ridiculously funny one-woman tribute to the feral heroine of SHOWGIRLS, Nomi Malone (as played in Paul Verhoeven's 1995 film by Elizabeth Berkley) and a wickedly satisfying mashup of the destined-for-cult-status dark comedy I, TONYA. Featuring outrageous original songs and more than a few bombshells, this is a ferocious and empowering night of musical comedy for the #MeToo movement. You'll laugh. You'll cry. You'll paint your lips on way too big while having epileptic orgasms. And when all is said and done, you'll walk away saying, "Nomi? No. ME."

After originating the role of Nomi in Bob and Tobly McSmith's Off Broadway musical Showgirls! The Musical! and reprising it for the show's west coast premiere run in San Francisco, Kidwell has played Nomi soooooo many times and knows every last thing there is to know about her.  That's why she is featured in You Don't Nomi (the compelling new Showgirls documentary premiering at this year's Tribeca Film Festival).  And now, she's ready to share that knowledge with the rest of us.

"April Kidwell, as Nomi, is a wonder. She is tireless, fearless and performing circles around Elizabeth Berkley's portrayal in the movie." — The New York Times

"A tour de force. She is at once absolutely ridiculous and straightforwardly amazing." — Gawker

"Just when you think she's showed you all her cards she pulls off something even better. Her performance is in a class of its own." – Stage Buddy

"A MUST-see performance… She is brilliant as Nomi Malone! BRILLIANT!" – Perez Hilton

I, NOMI runs May 30th – June 1st at 7:30 pm at Rebar (on Howell St in between Minor Ave and Boren Ave). Advance tickets are $25 ($30 at the door). A $45 VIP ticket including priority seating, 2 drink tickets and signed show poster ($50 at the door).
(Visited 9 times, 1 visits today)