Or, maybe 12 or so?
If it's a big cast with big themes and potential to be a spectacle, it must be a new Simon Astor play! 
The Seattle playwright who has given us the delightfully camp romp TULIPS OF FURY and the sci-fi space opera COCKTAILS AT THE CENTRE OF THE EARTH (at Annex, back when they did fun plays) returns for ONE WEEKEND ONLY with his brand new play, ANOTHER TEAR FOR ROME – A PLAY WITH SONG AND PROPHECY which has a preview tonight (Friday April 19th), an opening night on Saturday (the 20th) and closes on Sunday (the 21st)!
How's that for efficient theater?!?!?
So, that means you only have three chances to check it out…it's a must see for anyone enjoyed the funny parts of such hits as HBO's "Rome" or the BBC's "I, Claudius" or Penthouse magazine's "Caligula".
It's playing at that black box theater on the lowest level at Seattle Center's Center House/Armory/Food Circus (if you're really old) right next to the Centerhouse Theater that Seattle Shakespeare Company and Book-It Repertory uses and just kitty corner from the interesting public restroom where you can meet such a wide variety of folks…
More info below and snag your tickets HERE!!!!!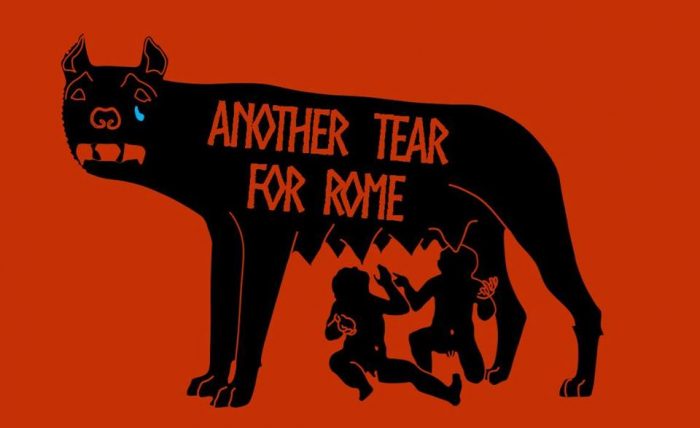 Another Tear for Rome – A Play With Song and Prophecy

After a visit to the Oracle frightens the Emperor, Rome is plunged into chaos. With its best poet and philosopher tucked away on Exile Isle and with the Goth invasion keeping the army busy, Orgy Season's feasts are sure to suffer.

The latest chamber-production from the troupe who served you Cocktails at the Centre of the Earth and blew the windmills of your mind in Tulips of Fury, Another Tear for Rome features a set of living columns and a lyre that tells the truth.

SEE! A woman named Labia menace her servant with a hairbrush! 

EXPERIENCE! An ambitious young man on a chariot of leopards!

WITNESS! The mysterious inner sanctum of an egg-loving prophetess.

SUBMIT TO! Goths Goths Goths! 

ACCEPT! A power couple delivering plot exposition from the comfort of their bedroom!  

PROFIT FROM! An organizational system that uses colors instead of numbers! 

Three shows only! And one of them is on Easter Sunday! It's how we got such a good deal on the theater!

Ticket Tiers (For Rome) 

Friends – A GA Ticket
Romans – A Ticket and Two Drinks
Countrypersons – A Ticket, Two Drinks, and a Skateboard Sticker!
Tags: A Tear For Rome, Ancient Rome, Camp Theater, Simon Astor