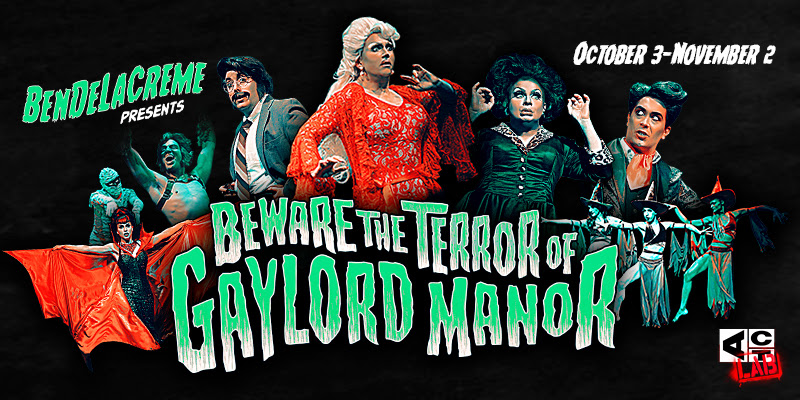 It's funny and it's creepy and full of scene stealing gogo boys, puppets, corny gags and Scott Shoemaker eating the scenery.
It must be the return of BenDeLaCreme's campy Halloween spoof Beware the Terror of Gaylord Manor to Seattle's ACT Theater for the third year in a row. The silly gay bar romp returns with Ms DeLa and her cast of comedians and burly q stars including Major Scales as Count Baron Von Gaylord, the aforementioned Scott Shoemaker as the scene stealing psychic, Leonora, and Mandy Price as a doubtful doctor/Leonora's hubby.
"Gaylord Manor" is obviously a big crowd pleaser and money maker for ACT…not only was the show invited back for a third year, they've upped the number of shows to THIRTY!!! Opening night is October 3rd and runs through November 2nd! Go here to snag those tickets…nights are already selling out.
A bit more poo:
Step inside Count Baron Von Gaylord's murderous—cough, cough—we mean marvelous manor!
ACT Pass members, reserve your seat for $15. All ACTPass fees directly support the company of Beware the Terror of Gaylord Manor.  
Returning to haunt ACT Theatre for a third consecutive year, internationally acclaimed drag artist BenDeLaCreme is joined by an all-star cast of comedy, dance, cabaret and burlesque luminaries for a tale of Halloween horror sure to leave you howling!

Pull up a seat in the heart of Gaylord Manor and watch the horror unfold all around you! Look on in terror as two pompous paranormal researchers and an unwitting ingenue find themselves in Count Baron Von Gaylord's murderous mansion on Halloween night. Soon they are terrorized by vampire vixens, well-built werewolves, mischievous mummies, and witches that WERK. Gird your loins…you never know what's going to burst out of the closet at Gaylord Manor!
Featuring Seattle favorites:
BenDeLaCreme as Patsy Jejune
Scott Shoemaker as Lenora Doddington
Major Scales as Count Baron Von Gaylord
Mandy Price as Dr. Dudley Doddington
Randy Phillips as Lunk
Inga Elisabeth as Isabella
Elby Brosch as The Mummy, et al.
Randy Ford as Mrs. Crachick
Chloe Albin as Mrs. Crachick
Moscato Extatique as Mrs. Crachick
and Jason Mondine as the Mother Puppeteer
(Visited 4 times, 1 visits today)