You have so many options to check out the latest debate among the Democratic presidential candidates for the 2020 election to get rid of the imbecilic Donald Trump.
The debate is happening Thursday, September 12th from 5pm to 8pm (Pacific Time) in Houston, Texas and televised on ABC.
It's the first debate to feature the major candidates all together on the one stage. Stricter guidelines for participation kept out candidates without sufficient backing and poll numbers with the result there will be just this one debate with 10 participants as opposed to the first two debates earlier this summer with 20 candidates and requiring two nights of debates.
Qualifying for the September debate: Elizabeth Warren, Joe Biden, Bernie Sanders, Kamala Harris, Pete Buttigieg, Andrew Yang, Cory Booker, Beto O'Rourke, Amy Klobuchar and Julián Castro.
This will be the first time that all the top polling candidates will face off with each other in the same debate including the first time Joe Biden and Elizabeth Warren have a change to go one on one.
For LGBTQ Seattle, you can enjoy watching the debates in the company of other (probably) like minded folks at these area venues:
5:00 PM
September 12 @ 5:00 pm – 8:00 pmQueer Bar, 1518 11th Ave
Seattle, 98122 United States + Google Map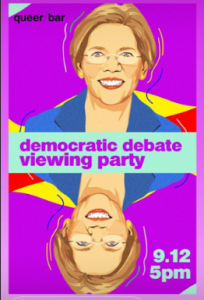 DEMOCRATIC DEBATE VIEWING PARTY Thursday, September 12, 2019 5:00 PM 8:00 PM The first democratic debate has passed, but we've still got a long way to go to until #2020 election. Join us at 5pm each night for a free viewing of the 2-night debate on the big screen at queer/bar! Enjoy delicious comfort food eats […]Find out more »
September 12 @ 5:00 pm – 8:00 pmOptimism Brewing Company, 1158 Broadway
Seattle, 98122 United States + Google Map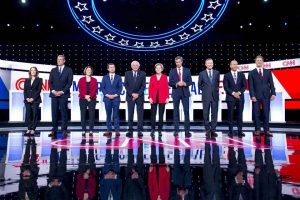 Join us and other Seattle Pete Buttigieg fans as we watch the 3rd Democratic Debates at Optimism Brewing.Find out more »
September 12 @ 5:00 pm – 9:00 pmThe Lumber Yard Bar, 9619 16th ave sw
Seattle, 98106 United States + Google Map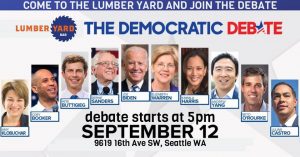 Come on down to the Lumber Yard Bar and debate the debate with us! The action goes down live at five!Find out more »
5:30 PM
September 12 @ 5:30 pm – 8:30 pmClock-Out Lounge, 4864 Beacon Ave S
Seattle, 98108 United States + Google Map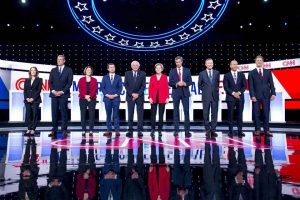 The third round of debates are right around the corner and the standards to be on the stage have increased. Please join King County Young Democrats, King County Democrats, the 37th ld Democrats and the 11th ld Democrats for a debate watch party at The Clock-Out Lounge on Beacon Hill home to some of the […]Find out more »
(Visited 1 times, 1 visits today)