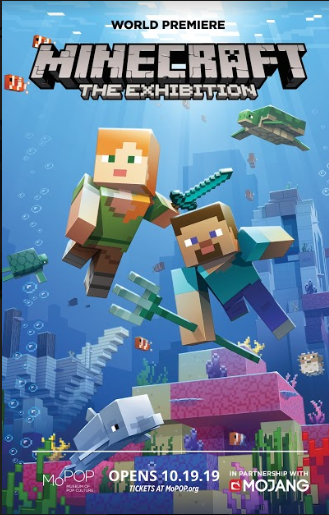 For gaymers, the news that Minecraft is turning 10 might be a big deal (if they're into that particular game) but even better is the news that Seattle's Museum of Pop Culture will be hosting a special Minecraft exhibit starting October 19, 2019!
You'll be able to inhabit the weird blocky world of Minecraft and experience the collaborative chummy world of Minecraftians with interactive exhibits as well as plenty of options for the all important….
PHOTO OPPS!!!!
MORE!
Minecraft: The Exhibition World Premiere Coming to Seattle's Museum of Pop Culture 
MoPOP celebrates Minecraft's 10th Anniversary by bringing its virtual landscape to life October 19, 2019
Seattle, WA (September 12, 2019) – The Museum of Pop Culture (MoPOP) is pleased to present Minecraft: The Exhibition, opening to the public on October 19, 2019. Designed for players and non-players of all ages, the exhibition celebrates the game's 10th anniversary by exploring how Minecraft has developed into a platform for unlimited creative expression, community-crafting, and inspiration to build a better world outside of the game.

Created in partnership with Mojang, Minecraft: The Exhibition is dynamic and immersive featuring life-size Minecraft creatures, scenic backdrops, a day-night lighting cycle, audio effects, and a gallery score. The exhibition will span over 6,000 square feet of the museum and is among the most ambitious exhibitions produced by MoPOP, offering fans of all ages the opportunity to experience the best-selling game of all time like never before.
"We are thrilled to co-create Minecraft: The Exhibition with Mojang and host the world premiere at MoPOP," said Brooks Peck, Senior Curator of MoPOP, "Minecraft is not only a game that allows for unlimited creativity and exchange of ideas, it also promotes inclusiveness and equality, which are core to MoPOP's mission."  

Since 2009, Minecraft has not only become the best-selling game, it has also grown into a pop culture phenomenon by connecting millions of fans across the globe. "We wanted to bring Minecraft to life in the museum to explore it more deeply, celebrate its community, and share this important phenomenon with the world," added Brooks Peck. 
"We're so excited about this collaboration with MoPOP because it gives everyone a chance to see the world of Minecraft through a new lens. We can't wait to see what the community thinks of Minecraft: The Exhibition,"said Lydia Winters, Chief Brand Officer at Mojang.
In the exhibition, visitors will feel as if they have stepped inside the blocky world of Minecraft, with scenes, patterns, colors, and textures being informed by actual in-game builds. The gallery will feature 15 life-size characters from the game, including the explosive Creeper and mysterious Enderman. Visitors will receive a hands-on experience at a real-life crafting table and face off against a groaning Minecraft Zombie. It also features game stations where players can try the game as well as explore some epic and elaborate creations from the community. Numerous exhibition films with interviews with the game's creative team, builders, and community members show how Minecraft inspires creative exchanges, community creation, and social change.
Fans can purchase tickets to Minecraft: The Exhibition starting September 17, 2019 at MoPOP.org/Minecraft. The exhibition will remain on view until September 2020. 
Exhibition Tickets On-sale: September 17, 2019
MoPOP Member Exclusive Preview: October 18, 2019 
Exhibition Opening Weekend Celebration (open to the public): October 19, 2019 
ABOUT THE MUSEUM OF POP CULTURE (MoPOP)MoPOP is a leading-edge nonprofit museum in Seattle with a mission to make creative expression a life-changing force by offering experiences that inspire and connect our communities. MoPOP reaches multigenerational audiences through our collections, exhibitions, community events, and educational programs, bringing understanding, interpretation, and scholarship to the pop culture of our time. For more information, visit www.MoPOP.org


ABOUT MOJANGMojang is a game development studio based in Sweden, best known for developing Minecraft. In 2014, Mojang joined Xbox Game Studios to continue work on Minecraft and bring their vision, creative energy and innovative mindset to the development of future games.
ABOUT MINECRAFTWith over 91 million unique Minecraft players engaged across all platforms and over 176 million copies sold worldwide, Minecraft is the best-selling video game in history. The Minecraft franchise continues to reach new players through an expanding line of consumer products, game updates, Minecraft Marketplace and the amazing content created by its vibrant and growing community. Minecraft is a game about placing blocks and going on adventures, and we're excited to see its world expand with new games like "Minecraft Dungeons" and "Minecraft Earth," Minecraft: Education Edition is a special version of the game designed for schools and educational settings, supporting 21st Century learning across subjects from coding to chemistry
(Visited 3 times, 1 visits today)