Both out gay men running for Seattle City Council's District 3 seat qualified to participate in the city's unique Democracy Voucher Program which gives eligible candidates funding to run their races. Capitol Hill Chamber of Commerce head EGAN ORION and Seattle School District Council member ZACHARY DEWOLF both gathered the required number of signatures and contributions necessary to qualify for the program. 
Both seek to oust current District 3 Seattle Councilmember Kshama Sawant who is running for re-election. Sawant is not participating in the Democracy Voucher Program which limits the kinds of donations a candidate can receive. Also running for the 3rd District seat are transgender activist Asukaa Jaxx (who doesn't appear to have any kind of candidate web presence to date) and Ami Nguyen, Logan Bowers and Pat Murakami.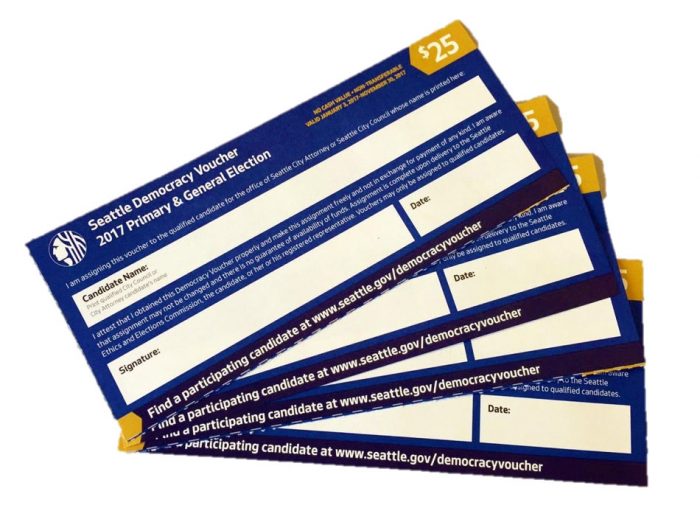 Both DeWolf and Orion will now need Seattle residents to assign their Vouchers to their campaigns. Every legal Seattle resident should have received 4 vouchers in the mail earlier this year. The vouchers can be given/assigned to any candidate running in a Seattle election this year…the vouchers can be split up between candidates and you can assign your vouchers to ANY candidate; they don't have to be candidates in your specific council district. (For example, you can assign one of your vouchers to Egan Orion AND another voucher to Zachary DeWolf and yet another to a totally different candidate, if you should so wish.)
To donate to Zachary DeWolf, go HERE.
To donate to Egan Orion, go HERE.
Down below are statements from both DeWolf and Orion on qualifying for the Voucher program, DeWolf up first:
CITY COUNCIL CANDIDATE DEWOLF REACHES 150 QUALIFYING SIGNATURES AND CONTRIBUTIONS IN NINE DAYS

Just nine days after announcing his candidacy, District 3 hopeful Zachary DeWolf has submitted the 150 signatures and contributions necessary to qualify for Seattle's Democracy Voucher program

SEATTLE: School Board Director and Seattle City Council District 3 candidate Zachary DeWolf announced today that he and his team of volunteers and friends—including his husband, Derek—have gathered the 150 signatures and contributions necessary to qualify for Seattle's Democracy Voucher program. The announcement comes just nine days after DeWolf, supported by fellow members of the school board, as well as sitting City Councilmembers, declared his candidacy for District 3.

"The Democracy Voucher program is an incredible, unique opportunity that gives our neighbors of all income levels the opportunity to participate in local politics," DeWolf said. "I'm humbled that so many people in my community have been willing to support me and want to join me in working together to create solutions we need to see for ourselves and our neighbors."

Seattle's Democracy Voucher program is a first-in-the-nation experiment, approved by voters, to give real financial power to residents. Candidates who wish to participate in the program are required to gather 150 valid signatures (and 150 donations)—half of which must come from within the candidate's district—to qualify.

DeWolf said that gathering the signatures and contributions was a great way to listen to voters and hear about the issues they care about, which included homelessness/housing affordability, transportation, education, and the environment.

"The Democracy Voucher program requires candidates get out into our neighborhoods and ask voters what they'd like to see," he explained. "Folks have real concerns and have seen a lot of changes in their neighborhoods—gathering signatures was another chance to hear those concerns. And they love to see us as candidates actually out and about, which makes the case for regular in-district office hours."

Now that he's submitted the qualifying signatures and contributions thanks to the support of roughly 300 individual neighbors, DeWolf says he's focused on earning the trust of the voters and meeting as many constituents as possible.
And, from Egan Orion:
Gay Seattle,

In the two weeks since I announced my candidacy for Seattle City Council, District 3, I have received support from old friends, neighbors, and strangers alike. I have met incredible individuals working hard to make this city work for everyone, and I have been humbled to hear the stories and concerns of those I seek to represent.

The outpouring of support in the last two weeks has been overwhelming in the best possible way. The energy and passion surrounding our campaign is an energy and passion characteristic to Seattle and District 3, and has reminded me once again of why I'm so dedicated to giving back to this unique and vibrant community.

I'm so grateful to each and every one of you that contributed and signed a statement of support for our campaign, and am thrilled to announce that this morning, we submitted our 150 signatures and contributions to qualify for Seattle's Democracy Voucher Program!

I am floored that we achieved this campaign milestone in under two weeks, but let me be clear – this is a shared accomplishment. Every signature, every contribution, and every conversation each of you had with your neighbors helped us reach this goal, and with you all behind us I am confident and excited about our ability to push through to the primary.

From the bottom of my heart, thank you. Now let's get to work!

With gratitude,

Egan
Tags: Democracy Voucher Program, Egan Orion, kshama sawant, LGBTQ Politicians, Seattle City Council District 3, Zachary DeWolf