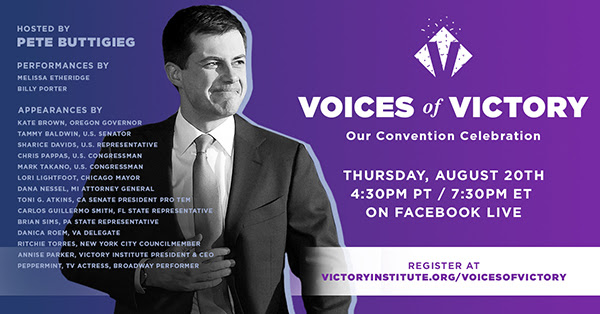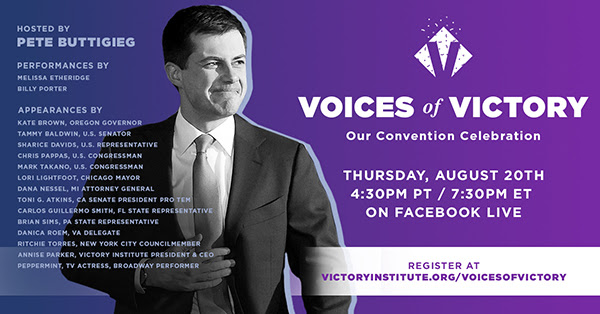 The Democratic Convention is happening next week and LGBTQ citizens can take part and celebrate LGBTQ politicians and candidates from around the country with Voices of Victory: Our Convention Celebration which is happening next Thursday, August 20th at 7:30pm ET/4:30pm PT on Facebook Live! 
It's produced by LGBTQ Victory Institute and will be hosted by our favorite dreamboat, former Mayor Pete Buttigieg and will feature appearances from many other LGBTQ politicos including another dreamboat, Brian Sims from Pennsylvania, plus U.S. Senator Tammy Baldwin, OR Governor Kate Brown,
Chicago Mayor Lori Lightfoot and many more.
There will also be performances from superstars Melissa Etheridge & Billy Porter.
It's a FREE event via Facebook but you can donate contributions to help the Victory Fund continue their support of LGBTQ candidates around the country.
Voices of Victory: Our Convention Celebration
Featuring LGBTQ Elected & Appointed officials and movement leaders. 

This event will take place during the Democratic National Convention and be a celebration where our national LGBTQ elected and appointed officials will celebrate their many accomplishments to advance LGBTQ equality and share their vision for a more inclusive and equitable future.  
Featured Guests Include
(in formation)
U.S. Senator Tammy Baldwin
OR Governor Kate Brown
MI Attorney General Dana Nessel
Chicago Mayor Lori Lightfoot
U.S. Congresswoman Sharice Davids
U.S. Congressman Chris Pappas
U.S. Congressman Mark Takano
CA Senate President Pro Tem Toni G. Atkins
CA Assemblymember Evan Low
AL Representative Neil Rafferty
AR Representative Tippi McCullough
FL Representative Carlos Guillermo Smith
GA Representative Sam Park
PA Representative Brian Sims
TX Representative Celia Israel
WI Representative JoCasta Zamarripa
VA Delegate Danica Roem
New York City Councilmember Ritchie Torres
Wheeling City Councilwoman Rosemary Ketchum
Mayor Annise Parker
Mayor Pete Buttigieg
Raffi Freedman-Gurspan
With Musical Guests
Fierce activist, singer, director, actor, writer and fashion icon —Billy Porter.
Two-time Grammy and Oscar award winning, Melissa Etheridge, notable for "Bring Me Some Water," "No Souvenirs", "Ain't It Heavy", "I'm the Only One" and "Come to My Window," along with her tribute to memorialize the Pulse Nightclub shooting, "Pulse."
Proceeds of this event will benefit Victory Institute's Presidential Appointments Initiative.  The Presidential Appointments Initiative serves as a talent bank, counselor and advocate for openly LGBTQ professionals seeking politically appointed positions in pro-equality presidential administrations.
Get Your Ticket

Become a Sponsor

Donate Now
(Visited 1 times, 1 visits today)