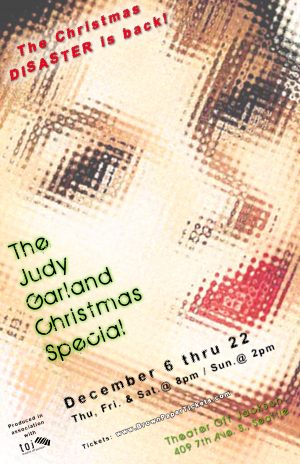 After a decade asleep in a pills-and-booze rage coma, the insane holiday event known as The Judy Garland Christmas Special has awakened and risen again!  A chronic cast member talks to Ron Sandahl, the mastermind behind this rebooted holiday tradition.
---
Craig: I remember seeing the first iteration of this show as an audience member.  Can you tell me how it all got started?
Ron: I had programmed a holiday side event with bizarre holiday videos at Open Circle Theater and one of them was the infamous Judy Garland Christmas Special, which I have always loved.  I had thought at one point, "I wish we could do this on stage." And then the next thought was, "Well, why couldn't we!"
C: What has changed in the time the show has been away?  Why did now feel like the right time to bring Judy back?
R: There have been 5 iterations of this show since the first one in 2005 and it has actually stayed fairly true to its source material.  We basically just do the special on stage and let it be the train wreck that it is. The reason we are doing it now is that our long-time Judy, Troy Mink, has had some serious health issues and that has resulted in catastrophic financial problems, so I thought we could do this to help Troy out.
C: The old shows were at the old Open Circle Theater (R.I.P.). What has the transition to Theater Off Jackson been like? What are the benefits of staging it there?
R: Theatre Off Jackson is co-producing and they have been great!  Open Circle was awesome, but was really a found-space type of theater.  ToJ is set up as a real theater from the get go, which is nice. And it seats twice as many people.
C: Can you tell me about the cast, both returning and new?
R: Troy Mink (Judy), Craig Trolli (Joey) and Josh Hartvigson (Liza & Lorna) have been in all but one version, so they are tied for most.  Todd Hull (Jack Jones)and John McKenna (Director voice) are next I think in number of versions. The new guy is Peter Sakowicz (Tracey), and I don't think people will be disappointed that the script calls for him to be in "tight pants" (wink wink).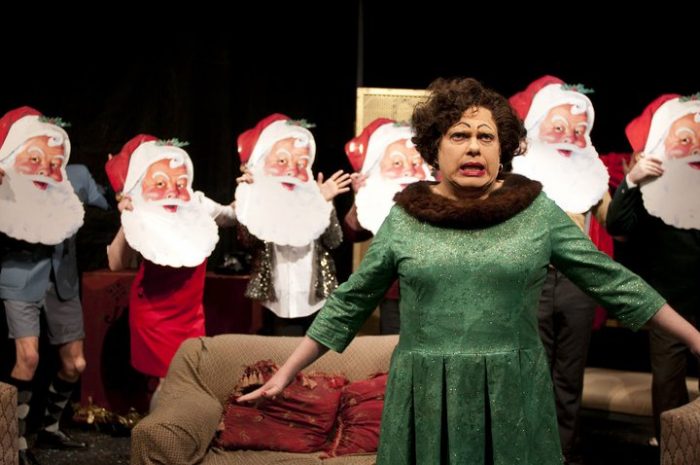 C: Over the years I played both Joey and Liza (with a return to Joey this year).  Which did you like better?
R: That is like asking if I like the Mona Lisa or the Arc d'Triomphe better.  They are both very different yet still magnificent!
C: That is the correct answer! Now, can you tell our readers about the festive photo shoot we did to promote the show?
R: Some of the guys in the cast have done a gay holiday photo tribute, with each playing their own gay holiday character.  Craig is "The Elf on the Bottom Shelf", Peter is "The Junk-in-the-Box" and Josh is "Glory Hole in Excelsis." The pictures speak for themselves.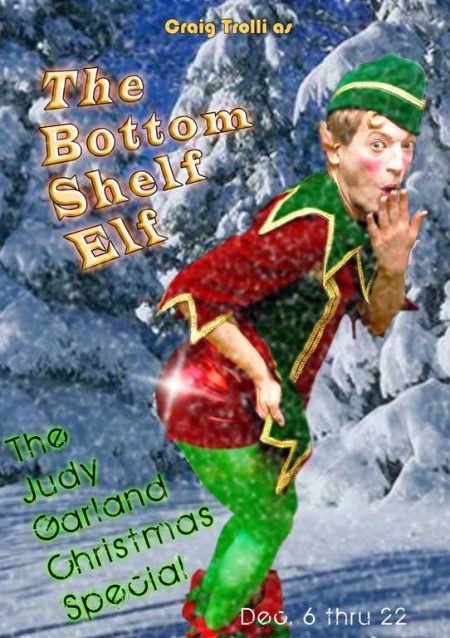 C: What helps Judy to be different from all the other holiday shows currently going up?  Are there any other shows you're excited about?
R: The thing about Judy's holiday show is that the real show is such a train wreck.  She never showed up for dress rehearsal, and nobody saw her until two hours before taping (she had been out all night drinking, but everybody was…it was taped one week after President John F. Kennedy was shot).  They nearly canceled the taping, but Judy staggered in at the last minute. So it is different than other Christmas shows in that it is a true Christmas DISASTER, and we keep true to that by recreating about 90% of the actual show on stage.  And even with all of that, it is still a pretty loving tribute to a gay icon.
---
More info on the return of The Judy Garland Christmas Special!
It's 1963 and the producers of Judy Garland's TV show have decided that what she needs is a nice Christmas special, something with the whole family in it: lovely Liza, cutie Lorna and little flamboyant Joey. But where the hell's Judy? When she does show up, can the producers keep her on the set and off the booze? Based on the actual, infamous 1963 TV special, this Christmas train wreck features songs of the season, dancing, drag, and of course, one unstoppable chanteuse.

Advance $22 / At door $27

December 6-22, 2018
Theatre Off Jackson
International District
409 7th Ave South (cross street is Jackson!)
Seattle, WA 98104

21+

Theatre Off Jackson and the the producer, Crabgrass Productions strive to be as accessible and inclusive as possible. Please contact us if you have any questions. Our venue is accessible by wheelchair and other mobility devices. Please contact us in advance so we can ensure your experience is as smooth as possible.
(Visited 4 times, 1 visits today)