The Greater Seattle Business Association had a VERY successful fundraiser this past Saturday, November 17th. Their annual EQUALUX: TASTE OF GSBA raised $1.25 million to fund scholarships for LGBTQ students. It was a record breaking haul for the event, which will fund $500k worth of scholarships for the coming year. 
The GSBA's executive director Louise Chernin details the event in this week's "Letter From Louise".
The courage to tell your story of hardship, with grace and inspiration, is not easy, but multi-year past scholar, Alejandra Silva Hernandez did just that at this year's 2018 EQUALUX: TASTE of GSBA. If ever we question the power of what it means to an LGBTQ student to receive a GSBA scholarship, it was clear from listening to Alejandra's story of how the support of one's community can have a ripple effect; Not only providing hope to one student but a cascading effect of change that will touch generations. You, our generous donors, did that and more as you raised your paddle again and again at EQUALUX.
Starting us off, we were brought to our feet, when Sandy Peterson, a dear friend and donor who only a couple of years ago, created our first ally endowment, raised her paddle for $100,000 to support the unique GSBA Leadership Academy, a program, which invests in our scholars beyond the tuition dollar. Her belief in the power of standing with LGBTQ students, inspired others to join Sandy. We were awestruck by the generosity of Steve Pline and Tony Paul, who couldn't be there, but were represented by Patrick Evans of Sound who raised Steve and Tony's paddle for $50,000, and it kept going up from there. In quick succession, Tom Yetman & Alan Chung, and Kevin Gaspari & Kent Thoelke joined as $25,000 paddle raisers! Once again, Diamond Sponsor Microsoft raised the paddle for $20,000, followed by Roby Schapira & Rico Rigo, John Wong & Greg Combs,Meade Thayer & Ray Fernandez, all at $10,000. In another beautiful gesture, longtime friends of GSBA Glenn Johnson & Michael Melancon who unfortunately couldn't attend, had their friend Michael Copeland raise their paddle for $10,000 as well. Precision Door Service owners Kurt Sarchet and Kevin Spratt stepped up at $7,500.
For the third year in a row, the GSBA Board joined by several other leaders, announced a $100,000 Leadership Match, which immediately became $200,000 as donor after donor raised their paddle. The room was already bursting with emotion, when Kendra and Jeff Petkau raised their paddle for $100,000 for a brand new endowment they are creating in honor of their beloved friend, Sandy Peterson. Never have we seen that kind of generosity in one night. Given the division we have witnessed nationally in our country and the rise in attacks against the LGBTQ community, we were overwhelmed by the sheer strength of this demonstration of love and support. Especially by represented diversity in the room throughout the night, and the staggering displays of ally-ship from our largest donors of the evening. It is a night that will seared in our memory forever.
Your generosity during Fund-A-Scholar, combined with ticket sales, sponsorship and the auction, before expenses, raised $1,250,000 for LGBTQ and allied scholars! This is truly an historic feat! Your dollars will allow us to invest $500,000 in our 2019 scholars, increasing both the total number of scholars, and our financial investment in each.
Never was there a clearer message as to the positive power of a community that came together to form a business organization thirty-eight years ago. GSBA was founded to break down barriers, promote equality, and take care of our youth – many whom were thrown out of their homes because of who they are. GSBA is one of the only values driven business organizations that, with your help, will continue to transform our community through business, friendship, and partnerships. Together, we invest in the education of the next generation because that is the hope for a better future for us all. With your investment, the GSBA Guarantee provides up to four years of education for our scholars, whether they chose an apprenticeship, a technical degree, an AA degree, or a four-year academic degree. Together, we will support our Scholars beyond their tuition by staying in touch throughout their school year at our annual Leadership Academy. Because of you, our scholars are more likely to succeed because they are not alone; they have the power of their community cheering them on.
Because of all of you, our Scholars have the encouragement and support to launch their futures as capable LGBTQ members of their community working to make the world a better place for all of us.
There are so many thank-you's to be given for making EQUALUX such a great success. To begin, huge thanks to Stephanie Dallas and Krista Mann, our dream Co-Chairs who provided leadership and vision for EQUALUX; our incredible Board of Directors, led by Drew Ness; Scholarship Fund Chair, Carrie Carson; the GSBA Staff – most especially the visionary Mark Rosén our VP of Development & External Relationships; and Carlos Chavez, our Program and Events Manager (aka Mr. Magic); and over 120 event volunteers!
EQUALUX: TASTE of GSBA would not be possible without you, our guests, and our wonderful sponsors. A heartfelt thanks to our Title Sponsor: Comcast Universal; ourPresenting Sponsor: UW Medicine, and 2018 Voice of Scholarship: Interchange Media, and of course each one of our Annual and Event Sponsors. And, what would EQUALUX be without our wonderful restaurant, catering, and wine sponsors (all listed below) who came together providing small plate tastes and incredible wine.
During dinner, one lucky table was treated to a culinary extravaganza created by celebrity chefs Tamara Murphy (Terra Plata), Jerry Traunfeld (Poppy and Lion Head) Sheena Eliz (Mbar), Leslie Mackie (Macrina Bakery & Cafe). Once again, our amazing auctioneer Laura Michalek, and delightful emcee, John Fisher, kept us both laughing and bidding, while they were helped by voice from above, Eric Jenson.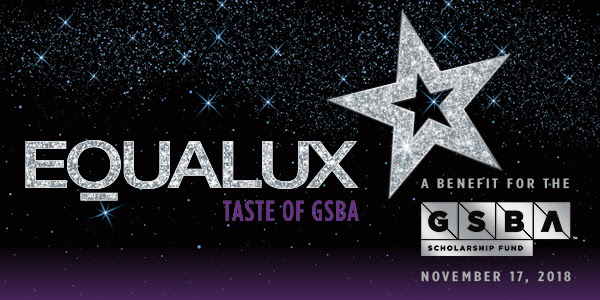 Because this is EQUALUX and not simply just an auction, there was a stellar line up of entertainment throughout the evening. With the help of A Sensible Theatre Company's Jared Michael Brown and Paul Flanagan, who gathered talent and produced an amazing show. Past Scholar Christina Brewer, homegrown talent and rising star Andi Alhadeff, Seattle Women's Chorus, and many more took the stage and sang their hearts out. Arnaldo! Drag Chanteuse once again held sway in our VIP Speakeasy, and DJ Leslie Wheatley of Seattle Parties spun the tracks to keep the silent auction crowd moving and grooving.
We'd also like to send a special thanks to the Seahawks Blue Thunder Drumline for helping move our 1000 guests into the ballroom in show-stopping fashion!
If you weren't at EQUALUX, there is still time to be part of the magic of giving. We invite you to make a year-end gift to your GSBA Scholarship Fund below. And, if you were a guest at EQUALUX, but not yet a member, consider joining GSBA. Together is better.
For the future,
Tags: Equalux 2018, EQUALUX: TASTE of GSBA, GSBA, LGBTQ Scholarships