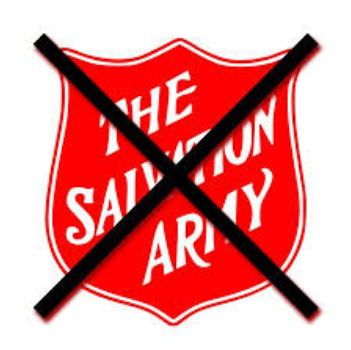 By now, we should all know this but just a reminder/head's up to anyone unaware that there are far better options for holiday donations than the seasonal Salvation Army bellringers and their little red tubs that pop up outside every major retail outlet. The Salvation Army isn't name that for shits and giggles…it's a Christian ARMY promoting Christian SALVATION to those who toe their Christian doctrine line. The group is actively anti-LGBTQ and have gotten into hot water more than once for being discriminatory. 
LGBTQ Nation has some backstory on their history:
In 2014, our sister site, Queerty, exposed two internal Salvation Army USA documents that laid out exactly how the religious org planned to battle the negative publicity. The memos described their plan for a "strategy of containment" that included whitewashing their past, confusing potential donors, and refusing to take responsibility for their horrendous history of discrimination.

In short, they've tried to sweep their past under the rug when they could end the whole thing by simply apologizing and promising to do better. Without the apology, any attempts they make will be met with skepticism.

Related: Salvation Army busted discriminating against transgender people (again)

Instead, the Army has now apparently instructed employees to simply not talk about their opinions or beliefs on the subject.
If you do wanna throw something in their pot, it's suggested you print out copies of THIS note and toss it in, to help make clear why LGBTQ people aren't giving them any money:

If you want to give money this holiday season, there are so many other better options including giving to local orgs like Lifelong or any LGBTQ group in your area.
Tags: Anti-LGBTQ Groups, Christian Intolerance, Holiday Giving, LGBTQ Boycotts Salvation Army, Salvation Army