June 13, 2019

•
by
Michael Strangeways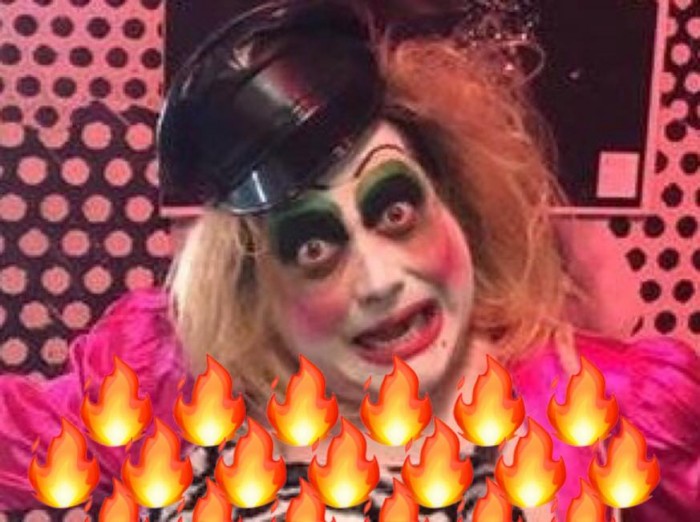 I meant to post this last month but my broken heart wouldn't allow it.
The Internationally Beloved Queen of the Clexy, the one and only Miss Jackie Hell….is leaving Seattle.
SOB.
The original Spooky Old Witch has been entertaining/horrifying Seattleites for 9 decades, or at least back as far as our Seattle Gay History books go, to the early mid 1990s. Jackie and Ursula Android created Pho Bang back then and launched a career that lasted until they broke up in the act a decade later (soon to be the subject of a VH1 Special…Behind the Shock Drag: The Jackie Hell/Ursula Android Story.
Jackie's solo career has taken her all over the place, bewitching fans with her Crayola Face and her winning way with an original song. But, not even a nightmare like Jackie can stand up to the true horrors of gentrification and the beloved Diva of Devil Worshippers is packing up her crayons and polyblend caftans to move to a city more hospitable to her creative vision…
New Orleans.
I mean, it just makes sense. The Big Easy is old, corrupt and full of vile odors…Jackie will blend in moments after arrival!
She's not the only one bailing on The Emerald City, though….Jackie's pal KOOK TEFLON is also packing up her brood for a move to N.O. The artist/seer/party producer/drag mom and diva in her own right already has connections down there; she's been spreading her artistry in the Delta for many years. Jackie and Kook have already had several farewell events but we're down to the last few days with them and you have opportunities to say farewell (though we're guessing they'll all be back for visits…) in the next couple of days with some fun events including a big Farewell/500th Birthday Bash for Jackie happening TONIGHT (Thursday, June 13th) at ReBar.
WARNING! The Jackie Party will be a packed house if you get there late! People LOVES them some Ms Hell! And, all sorts of friends will be on hand to say good bye including Adé, Honey Bucket, Mark Finley and many more!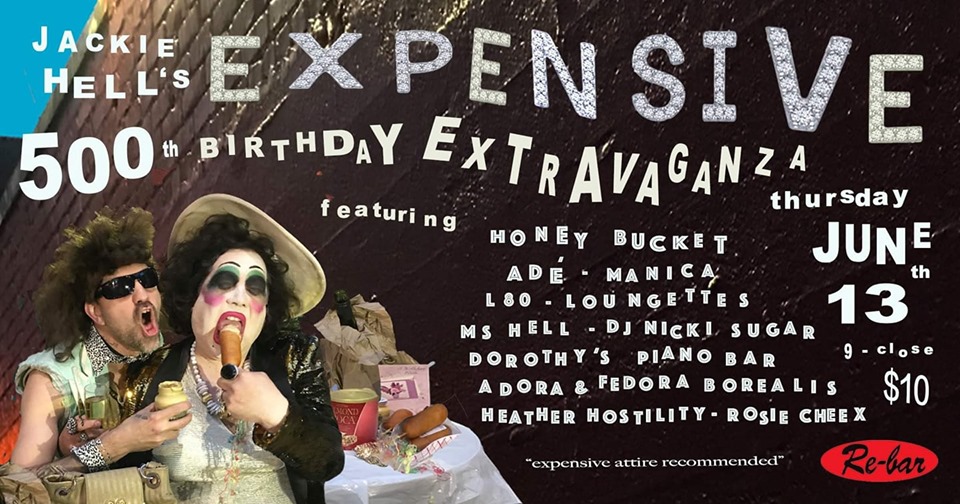 A bit more hellish poo:
Jackie Hell's 500th Birthday!
This is an extremely Clexy Event!
Expensive attire recommended
Featuring: Honey Bucket – Ade – Manica – Mark Finley – Loungettes – L80 – Jackie Hell – Dorothy's Piano Bar – Adora & Fedora Borealis – Heather Hostility – Rosie Cheex – DJ Nicki Sugar – Teflon Kook
Also, Ms Hell is moving to the Big Sleazy soon!
Come give her a Wet n Wild send off!!
At Re-Bar Thursday June 13th 9pm – 2am
$10 at the door. Doors at 8pm
Kook Teflon will be on hand as well but then she gets to shine on her own on Friday with a gallery show opening in West Seattle at the Virago Gallery, 4537 California Ave SW, for her show, CHURCH OF THE POISONED MINDS from 5pm to 9pm. 
More intel:
During Kook's tenure in the Rain City: she was given access to the unique world of Seattle 's Queer anti-establishment arts, been initiated as a High Priestess, raised two children and produced over 100 live shows including her mystic art gatherings Babylon Death Party. Kook is just as comfortable participating in the events as she is photographing them. Her collection of individual portraits that seem to capture the true temperament of her eccentric Seattleite subjects, which are also created through sculpture, paint and video.

As she Bids Adieu to PNW please come witness her last installation as a resident here in the Emerald City.

Special performance by Irene Bowen
Pop-up merch and more!!!
Check out both these events and pay your respects to these legendary artistes with champagne hugs and kisses!
(Visited 16 times, 1 visits today)
As the Editorial Director/Co-Owner, Michael Strangeways writes, edits and does about a million other jobs for Seattle Gay Scene, Puget Sound's most visited LGBTQ news, arts and entertainment website now celebrating its 14th year as a media outlet. A semi-proud Midwesterner by birth, he's lived in Seattle since 2000. He's also a film producer who would like you to check out the Jinkx Monsoon documentary, "Drag Becomes Him" now available on Amazon.com. In his spare time, he gets slightly obsessive about his love for old movies, challenging theater, "otters", vodka, chocolate, "I,Claudius", Lizzie Borden, real books made out of paper, disaster films, show tunes, Weimar era Germany, flea markets, pop surrealistic art, the sex lives of Hollywood actors both living and dead, kitties, chicken fried steak, haute couture and David Bowie. But, not necessarily in that order.
Related Posts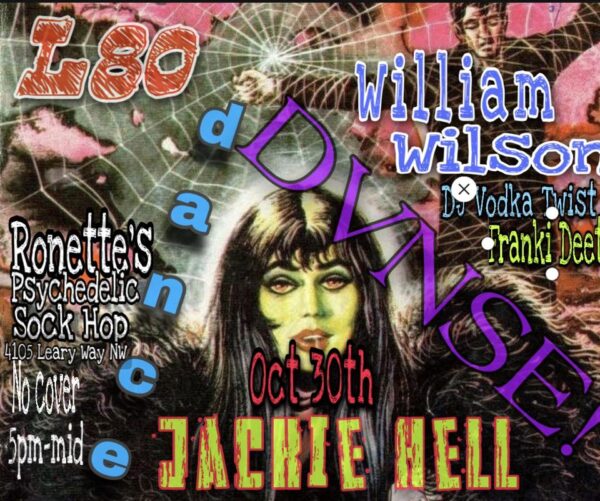 *Dragolicious • *Seattle Musicland • *SGS Recommends • Arts & Entertainment • Arts News • Bars & Nightclubs • Cabaret Clubs • Community • Community Events • Cosplay • Costume Party • DJ Dance Party • Drag O'Tainment • Gay 101 • Geek • Halloween Gay Seattle • Horror • Mark Your Calendars • News • Nightlife • Queer Music • Stuff to Do • We Love The Nightlife • Weekend Calendar
There are a lot of Halloween themed events happening on
...